New Year's visit to a Shinto shrine Daiyu-San Saijouji-Temple (3 January, 2014)
In Japan it's our tradition to pay a first visit of the year to a shrine during the New Year every year. A first visit of the year is called "Hatsu mou de" to a shrineHere is our report. I report the state of this New Year's visit to a Shinto shrine this time. It is about 30 minutes drive. We'd like to give some information about access from nearest station in the following article. We headed for a Shinto Shrine called Saijouji-Temple, which belongs Soto sect of Zen, and has more than 4,000 branches of a school in Japan. This temple is dedicated to Buddha accompanying two bodhisattvas, Manjusri "intellect" and Samantabhadra "wisdom"wishing to bring peace and wealth to the people. Temple also is known as dojo hall for young trainee monk. This temple has the side as a hallowed ground and has the history for 600 years and covers forest of 1300 sq. Kilometers. The hallowed ground where thick old Japanese cypress grows, having temple buildings of over 30 ridges creates mystic atmosphere. Anytime you go, you'll be struck by an mysterious awe. You'll feel awe but peaceful at the same time. Recently this Temple is called "power spot"(meaning spiritual places or sacred spots) and becomes a popular tourist destination.
Daiyuzan Station, Daiyuzan Line (Izu Hakone Railway) For Hatsumoude visit on New Year holidays, public transportations are recommended in order to avoid traffic congestion. During 1st to 3rd of Jan. general vehicles are not allowed to enter the parking lot. (There is a free parking lot, the number of cars parking is about 250, but is not available during New Years holiday (1st to 3rd of Jan.). You can use neighboring toll parking lot. Some parking lots are free of charge, a shuttle bus service runs between a parking lot and the temple. For train access you'll use Daiyuzan Line. From Odawara Sta. it takes 20 min., then take a bus from there. It'll take you to Saijouji Temple (10min.)
Bus stop to Daiyuzan is located in station square. It takes about 10 minutes. Fare is 260 yen (one-way).
There're 3-4 stores along the way where you can stop by on your way back. Those are souvenir shops and serves drinks such as sweet soft sake called "Ama Zake", local hot drink made of sake-cake.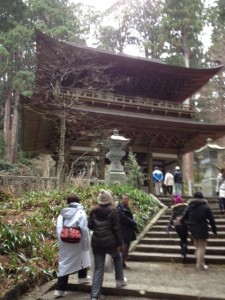 After getting off bus, as approaching to a shrine the first thing you can spot among big Japanese cedars is a large gate. In fact, this is the 3rd gate which worshippers are supposed to pass. If you are interested in another gate (called Deva gate) you can take a walk instead.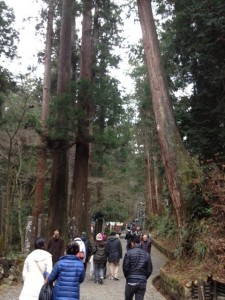 This is an approach to a shrine. The trees here are Japanese cedars which are more than 500 years years old and therefore been designated natural monuments by Kanagawa Prefecture. Also, an approach is called "hydrangea approach". More than 10,000 hydrangeas are planted on both sides of approach, time of hydrangea to bloom will be around June-July.
In addition, there are a lot of monuments along the way. Information such as names, prices and dates are carved on the surface. These monuments are commemoration of contribution which are made in time of need of repair or some festivals.
Still have long way to go. A large number of people are on their way to main shrine, Sanctuary, or holy yard.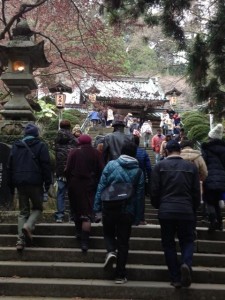 On top of stairway to Main Building you see Ruri Gate, the gate of the sky blue or lapis lazuli. Enormous numbers of steps with no break but finally coming to a goal.
It is the the Ruri Gate, the gate of As you walk through the Ruri Gate you'll get to "the" Main Buildig. So Let's go inside! Btw this Ruri Gate is famous as one of best camerashot spot when the natural autumn decoration of a Japanese maple covers it.
It is study. It looks rather more wonderful to tourists's eye han main shrine.
This is Honden (main hall). This temple is dedicated to Buddha accompanying two bodhisattvas, Manjusri "intellect" and Samantabhadra "wisdom". It is said that for national tranquility the prayer is offered, and master of religious service and mountain guardian do the preach to monk practicing asceticism every day and night.
Reception "Haku un kaku" in front of main hall. Let's head for "Oku no in" on the left side. There's something we want to do before prayer.
This is light bower in front of main shrine.
This is big incense burner. When you pray we buy the stick of incense and burn it here.
It is bell tower. A great number of people lined up waiting their turn to come to hit bell.
It is Tahou-Tou Tower, the terasure tower.
Among buildings of Saijoji Temple this tower is the oldest building, where is designated as an important cultural property of Minamiashigara-City.
Beside main bridge each side has extra bridge being used for taking offerings in or out, monks in charge has to put on white clothing.
These two extra bridges are usually closed. Over the bridge there's another gate called "Kekkai Mon" gate to "the" protective force field. Bridge is guarded by statues of knight, large long-nosed goblin and small goblin with bill of crow. When you pass through Kekkai Mon gate you are in the world of God, you'll see stairways of 77 steps of stone on the right hand, which leads you to the "Goshinden" the sanctuary.
As the final steps to the main secred hall is set as a quite teeply pitched and narrow, the temple staff will be there limiting the number of passenger. Sometimes you're going to have to stand in line.
Oh well, what a steep slope… but the final one!
At last we've arrived at sacred "Shinden". Let us remind you that this "Shinden"is not the main building yet. It's a dojo or anteroom. You can see all three figures related to this place, the principal image "Douryou son", great long-nosed goblin (prominent nose long-nosed goblin) "Hanataka Tengu" and small but skilled young knight (legendary crow-billed tengu) "Karasu Tengu" . In daytime and evening the hall is used for prayer、 and in the afternoon training room for special prayer. We came all the way up here through considerable stairs to here. It may be quite severe on elderly person.
You'll see pair of clogs quite mayt of them, which is footwear of long-nosed goblin lining up on the side of "Goshinden" the core hall Red clogs are displayed and looks very cramped. Most of them are made of metal so you can't put on and run, or actually can not even move an inch by hand. Goblin wooden clogs is symbol of couple harmony.
The steep stairway to the Okunoin has 350 steps. "Okuno-in" which is located beneith Okuno-in Temple. There seem to be 350 several steps. It mmight be painful for those that have relatively low muscle power such as elderly.
But no worries, you can take a rest halfway. In the middle of slope there's a space for break, and there you can see long-nosed goblin on both sides of you watching you. The "Ko-Tengu", small but skilled young knight.
Also, great long-nosed goblin. What a powerful aura…!
Furthermore, stairs spread out.
At last we've reached. The fief 11 Goddess of Mercy in Okuno-in Temple made hoyasu. Located at the highest place of Mt. Daiyuzan and large number of prayer comes for prayer. But! you may feel you're out ofbreath… A moment after hard time you'll feel great up there and will get a miraculous feeling.
See the size of the trunk of these cedar. Obvious when comparing with person.
It is downhill approach of return. it must be easier because there are only descents from here .
With enjoying such a scenery.
There was a sign to show the entrance of "Myoujin-ga-take". Hiking Course on the way. We can enjoy hiking around Hakone the outer rim of the volcano crater from here.
When you are hungry street food are special local delicacies. We bought "taiyaki" and "takoyaki". Or maybe it was the same taste everywhere. We returned to our car near Daiyuzan Station and went home.
※ Please make sure the info you see is the latest in advance.