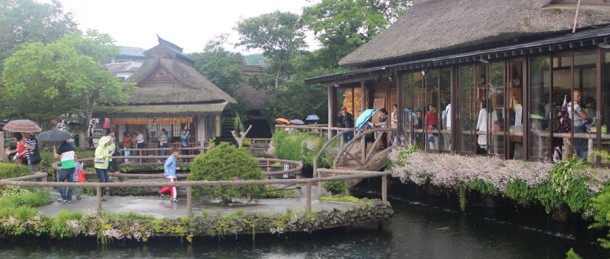 Oshino Hakkai (Springs of Mount Fuji) is a tourist destination at Oshino village. Hakkai literally means "eight seas" but its actually eight ponds! The plase are known for eight ponds over there which is Deguchi, Okama, Sokonashi, Choushi, Waku, Nigori, Kagami (literally means mirror pond), and Shoubu.
Oshino Hakkai
Oshino Hakkai consist of eight ponds and each ponds has its own special story. You can read a brief explanation of Oshino Hakkai here. Breathe the fresh air of nature over here and enjoy many Japan traditional things. The building are not too modern, some of them still maintain the shape of traditional Japanese building. Though it was raining when I went there, you can also see Mount Fuji from here when the sky is clear!
One of the tourist main attraction here is the water springs from Waku pond (8 meters depth). You can drink it freely to enjoy the pure water from spring. Even the water tab looks so badass with dragon ornaments! (Don't forget to bring your water container or you can buy a plastic bottle over there for 150 JPY.)
Japan Food
You are in the right place to taste traditional Japan food! I ate cold soba (type of Japanese noodle) at Ikemoto restaurant. They served not only soba but also udon (the noodle are more thick that soba). What I like from cold soba because usually we usually don't eat cold noodle in my country. Cold soba way of eating is also interesting. The noodle and the soup are separated so you need to soak your noodle in the shouyu soup for every bite. Don't forget to add wasabi and green onion in your soup to make it more delicious!
You can sit inside the restaurant or you can sit outside and enjoy the scenery. It was raining so we sat in the inner part of the restaurant. By the way, this restaurant drink is self-service so you need to pour your own warm green tea. I think its interesting and different from usual restaurant.
The soba was delicious! The taste is also different from soba from factory, it was home-made! You can see the worker making soba at a little hut right in front of the restaurant. Even the hut is still using Japanese traditional roof from grass as you can see in the photo below.
There is also kusamochi vendor! This is my first time eating it. Kusamochi literally means grass-mochi, because it is a mochi (rice flour dumplings) mixed with mugwort and filled with red bean paste. The seller grill it right in front of you so you can enjoy it while its hot. A nice desert after eating soba. It was raining when I went there so it's also good to warm your body!
Other food that I think interesting is the miso-tofu food. I am full after soba and kusamochi so I don't eat this one. Usually we 'drink' miso in miso soup, so this food is unusually interesting. It looks tasty too!
Thank you for reading this article. Please stop by at Oshino Hakkai if you come to Japan! Have a good day.
-Vivi-
Information
Title
Oshino Hakkai
Place
Oshino Hakkai
Address
Shibokusa, Oshinomura, Minamitsurugun, Yamanashi 401-0511 Japan
Admission Fee
 –
Contact
Oshino Village Sightseeing Assosiation TEL. : 0555-84-4221
Getting there

From Shinjuku Station by JR Chuō line go to Ōtsuki Station (approx. 90 minutes)
Continue from Ōtsuki Station by Fuji Kyuukō Ootsuki Line to Fuji-san Station (approx. 50 minutes)
From Fuji-san Station
・Take the bus bound for "Uchino" and get down at Oshino Hakkai Iri-guchi bus stop
・Take the bus bound for "Fanakku Keiyu Heiya" or "Fujikko-gou" and get down at Oshino Hakkai (Ōbashi) bus stop

From Shinjuku Station West Exit take the Chuuō Kōsoku bus bound for "Fuji-go-ko" and get down at Oshino Hakkai bus stop (approx. 140 minutes)
※ Please make sure the info you see is the latest in advance.