Jogasaki (Kadowaki Suspension Bridge)
Address Jogasakikaigan, Ito-shi, Shizuoka
Parking lot Approx. 60 toll parking lots
Access by public transport: Get off at the "Jogasakikaigan Station" of the Izukyu Line, from there walk for 15 minutes.
Photo taken on July, 2011
Kadowaki Suspension Bridge
The suspension bridge in Jogasaki is a famous tourist spot, with big scales of 23 meters in height and 48 meters in width. It is hanging on Cape Kadowaki, the scenery of the precipice eroded by seawater is both magnificent and beautiful. You can enjoy the beautiful scenery created by the quay and the sea at here.
Scenery of Jogasaki
The stony coast line is created by an eruption of Mt. Omuro occurred 4,000 years ago, while the lava flowed in to the sea, eroded by the sea and finally formed this scenery. The scenery is in such a magnificent scale, let you feel the power of the nature. In addition, there is also a hiking course of approximately 20 minutes from Jogasaki to Izu Ocean Park.
Kadowaki Lighthouse
From the observation deck of Jogasaki, you can look around the Izu-shichitou islands and the Seven Islands and the Mount Amagi. It is 24.9m above the ground. At the 4m and 17m height above the ground, there are the 1st and the 2rd observation decks, where you can view the entire scenery of Jogasaki.
Scenery viewed form under the Kadowaki Suspension Bridge.
Scenery of Jogasaki (2)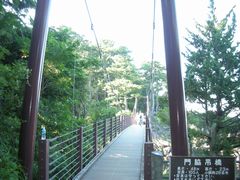 Kadowaki Suspension Bridge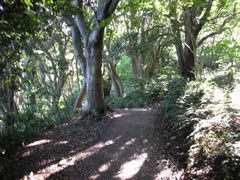 Hiking course to the marine park

※ This article is provided by the courtesy of "Usagi no Heya (Rabbit Room)", the blog provides tourist attractions information of Kanagawa Prefecture and the surrounding areas including Izu, Hakone, Kamakura, Yokohama and Yamanashi. http://livesnow.web.fc2.com
※ Please make sure the info you see is the latest in advance.