Aquarium in the forest (Forest Village of Fuji Yuusui)
Address 3098-1, Shibokusa, Oshino-mura, Minamitsuru-gun, Yamanashi (inside the Sakana no kouen Park)
Parking lot There is a free parking lot (around 40 available)
Access by public transport: (a nearest bus stop: "Sakana park" by Fujikyu Yamanashi Bus (pls 3-minute walk)
Photo taken on 2013.3 (update: 2013.3)
Forest Aquarium appearance
It is the small aquarium in the Sakana Park. Water tank In 1st floor, 2nd floor is the on-site training section and there is the aquarium for freshwater fish. There are the display water tanks using the spring of Mount Fuji as well and you can feel connected with Mount Fuji.
the hall, smple 1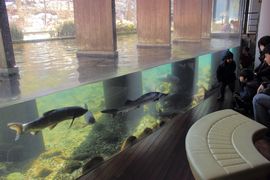 the hall, sample 2
Theater hall
The featured facilities in the hall are screening with 180 inches of three panoramic screen and doubleness excursion water tanks to go through from 1st floor to 2nd floor. It looks like the mysterious space that a small fish and a large fish swim together by all meansin one water tank.
the hall, sample 3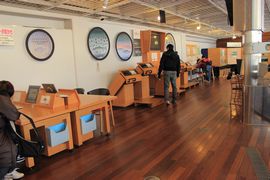 Browsing corner
Double excursion water tank
Two folds of excursion water tank 2
Double water tank and the hall

※ This article is provided by the courtesy of "Usagi no Heya (Rabbit Room)", the blog provides tourist attractions information of Kanagawa Prefecture and the surrounding areas including Izu, Hakone, Kamakura, Yokohama and Yamanashi. http://livesnow.web.fc2.com
※ Please make sure the info you see is the latest in advance.