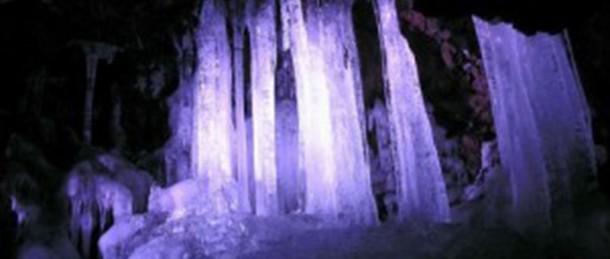 Address 8533, Narusawa-mura, Minamitsuru-gun, Yamanashi
Parking lot There are 100 free parking lot trailer bus nine / cars
Access by public transport: Get off at "Lake Kawaguchi" by Fuji Kyuko Line, change to Fuji Kyuko bus to "Hyouketsu" (Ice cave) it will take about 30 minutes.
Photo taken on 2012.7
The cave
In a ringed expression pit cave, annual average temperature is around 0 degrees Celsius. It is the cave which was made by the lava flow flew in the eruption of the side volcano of Mount Fuji in 864 years. The existence of this cave is precious in geologically. I can see a pillar of the ice made of a drop of water which bled drips down from a ceiling in the winter season and freezes, and there was natural icicles.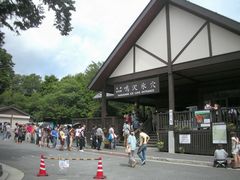 Cave entrance
In the Narusawa Ice Cave there are souvenir shop and stalls, also the facilities such as the Mount Fuji gallery and it is the spot where is popular among tourists.
Gift shops: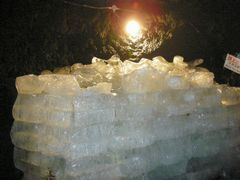 Wall of the ice (reproduction of the refrigeration used as a storehouse of the ice in the times when there was not the refrigerator)
The cave inside (there are the places unable to go along without stoop down)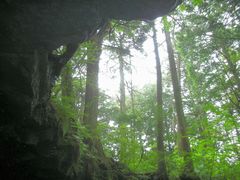 The photograph which looked up at the entrance (ground) from the cave bottom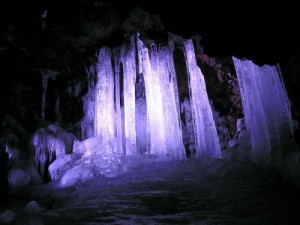 Icicle (a drop of water which oozed and fall from a ceiling to the ground, and became lump of icicles)

※ This article is provided by the courtesy of "Usagi no Heya (Rabbit Room)", the blog provides tourist attractions information of Kanagawa Prefecture and the surrounding areas including Izu, Hakone, Kamakura, Yokohama and Yamanashi. http://livesnow.web.fc2.com
※ Please make sure the info you see is the latest in advance.