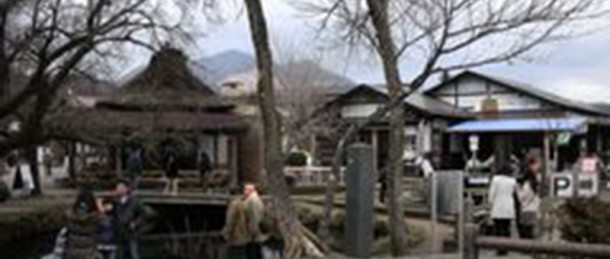 Address The neighborhood of 360, Shibokusa, Oshino-mura, Minamitsuru-gun, Yamanashi
Parking lot One free parking lot and three toll parking lots (can park up to about 120 cars)
Access by public transport: Take a Fujikyu Bus from Fujisan Station (previously called Fuji-Yoshida Station) of Fujikyuko Line for Uchino via Omiyabashi for 20 minutes and get off at Oshino-Hakkai-Iriguchi bus stop, walk for another 8 minutes.
Photo taken on 2011.4
Oshino Hakkai
Oshino Hakkai was once interconnected with Lake Yamanaka in the past but was isolated by lava flows caused by the eruption of Mt. Fuji. The eight springs pouring out from the Fuji area are well known for the high quality of spring water. The area has been chosen as one of the 100 best spring of Japan, also registered as Japan's Natural Monument.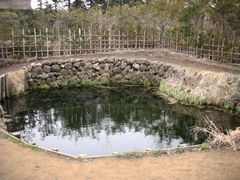 Choshi Pond
As the name described, Oshino Hakkai is composed from eight ponds. These ponds were all formed by spring waters erupted from the inner side of Mt. Fuji. After refined and filtered underground for 80 years, melt snow water of Mt. Fuji finally formed beautiful ponds with crystal clear water. (Unfortunately, photos list here looks not so beautiful because the weather was not so good on that day. )
Gift shop
At the gift shop of Oshino Hakkai, you can buy dried fruits and other specialties. You can also buy soft ice creams and rice‐flour dumpling mixed with mugwort. It is delightful to take a break while enjoying the scenery of the ponds.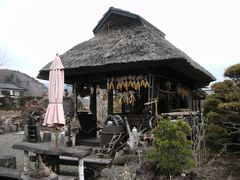 Scenery of Oshino Hakkai
Watermill

※ This article is provided by the courtesy of "Usagi no Heya (Rabbit Room)", the blog provides tourist attractions information of Kanagawa Prefecture and the surrounding areas including Izu, Hakone, Kamakura, Yokohama and Yamanashi. http://livesnow.web.fc2.com
※ Please make sure the info you see is the latest in advance.