Address 3098-1, Shibokusa, Oshino-mura, Minamitsuru-gun, Yamanashi
Parking lot There is a free parking lot (around 40 available)
Access by public transport: (a nearest bus stop: "Sakana park" by Fujikyu Yamanashi Bus (pls 3-minute walk)
Photo taken on Dec. 2010.
Outside view of a palace of the forest(Mori no gakushuukan)
There is the "building for learning" "village aquarium "lawn park" of Fuji Yusui(spring water)" of the forest" in the fish park. In the building fo learning there are a book corner and experience corners such as the work that can enjoy various documents such as nature or the animal, the learning corner that can enjoy a sound picture with screen .
Building for learning break space of the forest
Building forlearning, book corner of the forest
Buildingof learning, introspectiveness of the forest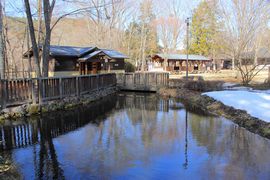 Lawn park
The playground equips small waterfall and playground equipments that little children can enjoy in the park, and it is a resting spot surrounded by water and forests.
Lawn park playground equipment 1
Lawn park playground equipment 2
Hydrophilic pond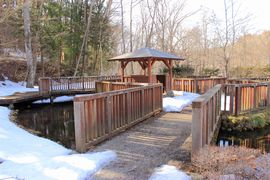 Observation pond

※ This article is provided by the courtesy of "Usagi no Heya (Rabbit Room)", the blog provides tourist attractions information of Kanagawa Prefecture and the surrounding areas including Izu, Hakone, Kamakura, Yokohama and Yamanashi. http://livesnow.web.fc2.com
※ Please make sure the info you see is the latest in advance.