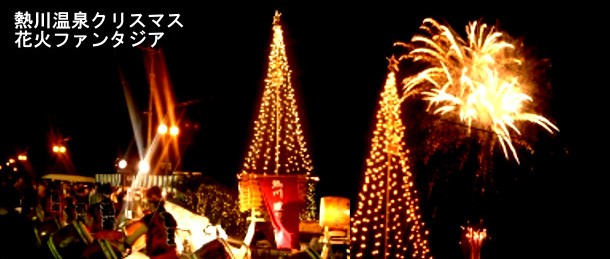 The 20th Atagawa-Onsen Christmas Fireworks Fantasia
It's Christmas Night in Izu-Atagawa! Many events such as Atagawa Dokan Drum performance, firework shows and traditional food stand are scheduled on the night of Christmas around Izu-Atagawa area.
■Participate in our Love Message Contest now to win a chance of displaying your love message with the launching of fireworks!!
~ Love Hanabi is a good opportunity to send your love messages with the Christmas fireworks to your loved one ~
Winners (the top three selected messages) will be offered a discount coupon worths 20,000 yen that can be used in Atagawa Onsen.
– Deadline to participate: December 20th, 2016
– How to apply: send your name, phone number, the place you are staying to info@atagawa.net
– The winners will be announced at the venue of the firework show on December 24th.
■Drinks
Hot drinks, sparkling wines, etc.
■Also sales grilled sausages, corn soups, etc.
Information
Event name
The 20th Atagawa-Onsen Christmas Fireworks Fantasia
Place
Atagawa Kaigan-dori Road
Address
Eastern Izu-cho, Gamo-gun, Shizuoka Prefecture, Japan
Date and Time

Saturday, December 24th, 2016
7:30 pm to 9:30 pm

Fees
–
Contact
Atagawa-Onsen Tourism Association Phone: 0557-23-1505
Getting there

Five minutes walks from Izu-Atagawa Station of Izukyuko Line.

Website:
http://www.e-izu.org/event/1450/?year=2016&month=12&day=
* Please make sure the info you see is the latest info before visiting the place.