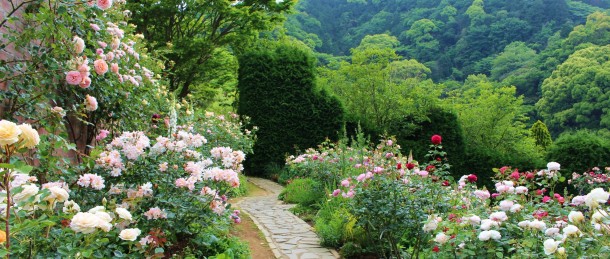 Akao Herb & Rose Garden "Atami Rose Festival"
Akao Herb & Rose Garden is a large rose garden built on the slope of a mountain in Atami. With 4,000 roses of 600 species, you can see enough roses here to last you a lifetime!
May is rose blooming season in this part of Japan, so I picked this time to visit. As it is the "best season of rose", the garden charges a higher admission fee from 15 May to 10 June.
Do take note that the "Atami Rose Festival" held in this garden starts from 26 March and ends on 15 July. However May and June are the best months as almost all roses bloom during these months.
Right after purchasing the entry ticket, a bus would take you to the very top of the garden. During the ride, the driver would introduce the garden as he drives pass each notable spot. Once at the top, visitors can alight and start descending the garden and watch the beautiful roses.
Without further ado, here are the photos I took.
At the very top, there was this seemingly irrelevant Japanese garden. Nonetheless, you could enjoy a great view of the sea from here.
On to the roses. There were many small rose gardens of various themes throughout the descend. In descending order from the top of the garden to the bottom, they were : English Rose Garden, Golden Rose Garden, Collection Garden, Queen of the Night Garden, Valley of Roses, Climbing Rose Garden, Propose Garden, Wedding Garden, France Fragrant Rose Garden, Herb Garden.
Some photos of the rose gardens.
Close-ups of roses.
That's a lot of roses!
Somewhere in the middle of the garden, there is an open cafe where you can have rose ice cream. The entranceway was real rosey.
The lowest garden here is the herb garden. The lavenders hadn't bloomed while I was there.
All the way at the bottom, there was a herb workshop, where visitors can make various items such as soap, cologne, and bath salt, using natural herbs.
A very nice and big rose garden. Roses are really beautiful flowers, and I had a great time taking photos of them.
By Desheng.
Information
Name
Akao Herb & Rose Garden
Location
1027-8 Kamitaga, Atami-shi, Shizuoka-ken 413-0101
Contact
0557-82-1221
Price
Adult : 1000 yen
Child : 500 yen

For 15 May ~ 10 Jun (Rose blooming season):
Adult : 1,200 yen
Child : 600 yen

For 1 Dec ~ 28 Feb (Winter) :
Adult : 700 yen
Child : 400 yen

Opening hours
9:00~17:00 (last entry at 16:00)

Closes every Tuesday in December and January, but opens from 29 Dec to 3 Jan.
Closes during bad weather.

Access
From JR Atami station, take a Tokai bus bound for Ajiro for 15 minutes and alight at Akao Herb and Rose Garden.
Homepage
http://www.garden-akao.com/index.html
*Please check for the latest information before visiting.
* This article was written by a trainee from overseas. Please note that there might be spelling and grammar mistakes.