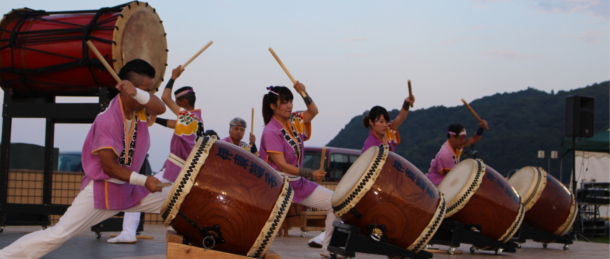 Ito Anjin Festival- Drum Group Competition
The Ito Anjin Festival is the major event of Ito City. A variety of events are held over a period of 3 days. One of the greatest event of 70th Anjin Festival was Drum Group (taiko) Competiotion, which was held on 9 August. About 10 groups are taking part in the competition in Ito every year. Ito is full of hot springs and japanese traditional hotels (ryoukan), located among the hills and the sea.
Drum Group Competition
When I had walked to the Nagisa Park, I easly recognized the participants of competition. People dressed in colorful happi coats had been loosening up before the show. Although the drumers are professional musicians, they have strong muscles, just like spotsmans. They need to increase the physical strenght, because proper hitting the drums is very exhausting. For this reason, most of the drumers are men, but my favourite grup of this competition was composed of woman and children. There were no men in this team, but I would say that thair perfomance was the greatest drum concert I have ever listened.
Although it was getting late, more and more listeners had been coming to the park. Sounds of drums were drawinng the attention of tourists who had been taking the rest during the evening walk. Drums were resounding among the mountines, which created the majestic and unique atmosphere. Every group had a lot of kinds of drums and they were presenting various playing technique. Changing tempo and the expression of the drumers made that you couldn't get bored.
Summary
Japanese know the sound of drums very well. Drum groups present thair skills during the Japanese festivals and events. But the foreigners don't know this kind of music at all. The Drum Group Competition, organized in Ito, is a great opportunity to listen the great drum concerts for free. What do you think? Whould you like to come next year?
Weronika Golubska
Information
*Please check for the latest information before visiting.
* This article was written by a trainee from overseas. Please note that there might be spelling and grammar mistakes.