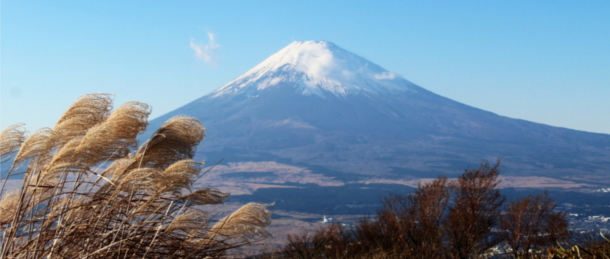 Ashinoko Skyline Drive is a 10.7km toll-road on the northwestern shore of the Lake Ashi and offers splendid views of the lake, Mt. Fuji, Sagami and Suruga Bays. Visitors come away with an immediate impression of nature and its transformation with the changing seasons. I was very impressed as well!
Road leads along the shore of the Lake Ashi and you can admire such a beautiful view almost over its whole length. Purpose of my trip, was wathing landspape of autumn leafs, but it was too late for colorful leafs, because they already dried. Although, I wasn't disappointed at all, because it was very sunny day and Mt. Fuji was perfectly seen in its full form. I have already visited many tourist spots, from where Mt. Fuji is visable, but I haven't ever seen it as well, as during the Ashinoko Skyline driving. There are approximately 10 vantage point along the road, that you can easily stop the car and get off to take a pictures. Also, when driving along there is a place where music can be heard from the road surface by a special pavement!
Except of the skyline, there are many other attractions around the Lake Ashi.Hakone Srine, ropeway, Hakone Checkpoint and The Lake Ashi Sightseeing Cruise are all located very close to each other and they are all worth seeing.
Also, when I was coming back to the Odawara, I saw the beautiful view of autumn leafs in the Miyanoshita area. Along the road, there is a river and some bridges, then I could take many great pictures.
Summary
Ashinoko Skyline is one of the most incredible view points around the Hakone. I recommend you to come there, when the sky is clear. Then it's great place to photograph, looking into the mountains far away in the distance. If you are planning to go to Hakone by car, it's definietly must seeing spot!
Weronika Golubska
Information
| Name | Ashinoko Skyline |
| --- | --- |
| Location | Hakone 638, Hakone Town, Ashigarashimo District, Kanagawa Prefecture |
| Contact | 0460-83-6361 |
| Price | 620 yen |
| Opening hours | 7:00 – 19:00 |
| Access | 25 minutes by car from the Hakone Yumoto |
| Homepage | http://www.ashinoko-skyline.co.jp/ |
*Please check for the latest information before visiting.
* This article was written by a trainee from overseas. Please note that there might be spelling and grammar mistakes.