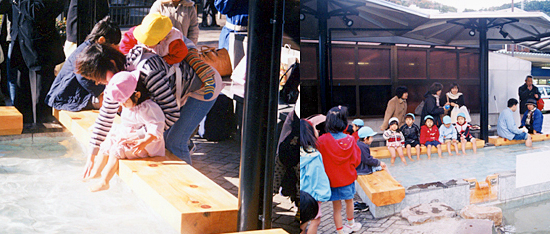 Footbath at Atami station square, General Ieyasu's Spring
Footbath at Atami station square, General Ieyasu's Spring
There is a footbath place in front of Atami Station called "General Ieyasu's spring" using the natural hot spring of Atami.
It opened as a commemorative project of General Ieyasu Tokugawa's Visit to Atami (March, 2004) for 400 years anniversary, and now many people visit here every day.
(Visits of General Ieyasu tokugawa was officialized in Keicho era year 2 (1604 A.D.) and Keicho 9(1597 A.D.).
Like a photograph, there are some wooden bench spacious for 12 people to sit and stretch out their legs in hot tub of Atami spring. There even is the roof that you don't have to worry about if it's a little rain. (It isn't limited for bench, anyone can join freely)
Vending machine for "the Ieyasu tub original" towel is available in case.
It's free of charge, stop by anytime you please.
Size: 170cm width, 530cm height, 23cm depth (9.0 square meters)
Temperature: Approximately 41 degrees celsius (the source temperature is 68.9 degrees celsius)
Quality of a spring : Sodium, Calcium – chloride, sulfate hot spring (hypotonicity, alkalescent high temperature spring)
Effect: I helps recovery of a drill wound, a burn, chronic dermatopathia, a weak child, chronic woman's illness, arteriosclerosis, neuralgia, muscular pain, arthralgia, stiff and painful shoulder of fifty years of age, the exercise paralysis, the tightening of the joint and see it and sprain it and, for chronicity digestive organ disease, hemorrhoids disease, poor circulation, convalescence convalescence, increase relieving fatigue, health. (Sept17 2003, analysis by Shizuoka life science center Foundation)
Others:
・The linked geyser blows it up for about one minute in four minutes and freshen footbath water. (*in case you want to know)
・Hot water supply from geyser and footbathing is 100% genuine.
・Cleanness of water is guaranteed. All the water is drained every day after 4:00 p.m. facilities are cleaned every morning.
・Supply system is called "kakenagashi-type" which hot water is used only once.
・Stepping on pebbles on the floor of the footbathingcan be enjoyed a walking-bath.
・Vending machine to sell original towel (one piece 100 yen (tax-included)) with is available.
Station Square Geyser
There is a geyser next to the footbathing as mentioned above.
This geyser was installed as a landmarking monument of Atami Station as a doorway of Atami Onsen Spa Town and imitated the largest spring geyser of seven Atami geyser in January 1976.
As for the size of rocky mountain made of layers of lava from Mt. Fuji is 5m height 6m width, and a fountain is splashing out inside.
The geyser spouts out with a rumbling sound for approximately and it continues for one minute every four minutes, and water that gushed out splashes out into the pond, which reminds some people of "Fontana di Trevi" and throw coins into there.
Light Railway Locomotives
There is a display of light railway locomotive next to the geyser mentioned above.
The light railway is the first Japanese steam locomotive. Former system Atami railroad was manpower-basis transport company run since1895, was replaced to the steam engine by Sir Keijiro Amemiya Jiro on December 25, 1907.
Steamer operated between Atami and Odawara approximately 25km taking two hours 20 minutes to 40 minutes, 7 times a day.
Because of Great Kanto Earthquake in 1923 the whole line collapsed by the Great Kanto Earthquake, the operation broke down on September 21 in the same year.
This locomotive was displayed as a specimen car after business closed in Japanese National Railways Takatori factory of Kobe. Atami citizen took an movement and regained the right to own it, therefore Atami restored it and was displayed afterwards in the Minato shou Park in 1969. It was moved to this current place in 1975.
Basic Information
| Name | Footbath at Atami station square, General Ieyasu's Spring |
| --- | --- |
| Address | The Atami station square, beside the intermittent spring |
| Business hours | ※service year round from 9:00 to 16:00 *could be closed due to bad weather |
| Fees | Free |
| Parking lot | N/A Use paid Parking around Atami Station |
| Contact | Atami Tourist Construction Department. Urban Development Division, Park Greening Office TEL: 0557-86-6218 |
| Getting there | The Atami station square |
| Website | — |
※ Please make sure the info you see is the latest in advance.