Onsen is a must-have experience in Japan.

Japanese people love onsen (hot spring), weather it is in the hotel or dedicated onsen ryokan or onsen baths, there are countless onsen facilities all around Japan offering ultimate hot spring relaxation.

Tourists from overseas or other parts of Japan often choose accommodation combined with hot spring facilities, as well as meticulously made Kaiseki Cuisine.

But local people tend to choose a one-day trip onsen experience enjoying only the hot bath, after the bath they simply go home.

I got some errands today to visit Atami, so I decide to take a hot bath in Onsen to have a enjoyable onsen experience.

I searched for a while on the Internet, found an onsen facility named Nikkotei, its ranked in the top 18 one-day onsen trip of Atami.

It looks like perfect, I'll definitely go to Nikkotei!

By using a navigation system on my phone, I went from Sun Beach to Nikkotei without any hassle.

From a distance, I saw a unique stone arches with modest design.



When looked closer, I noticed it contained some meaningful thoughts. It advocates compassion and kindness.



There is a board sign at the gate, displaying a summary of the facility and the price.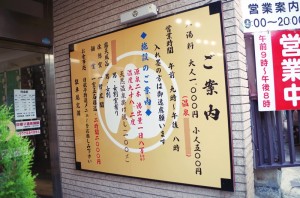 After changed to a pair of slippers I entered the gate, there were many people sat on a sofa in the foyer, looked like these people had had an enjoyable hot bath, now chatting with each other leisurely.

The interior of Nikkotei looked modest, there is a lounge with several vending machines. The rest of the facility were occupied by bath rooms with large bath



The women's bathroom I entered has an indoor hot spring bath and a half-open air outdoor hot spring bath.

The bath uses pure natural hot spring water without any recycling and heating.

The owner of the facility also had done some water test, found that the hot spring water contains many natural minerals that are good to human body.



I dipped my whole body into the hot water, it felt warm soon. I padded my face with hot water, the skin of my face became smooth and clean.

After sitting in the bath for a while I felt hot and couldn't wait anymore to go to the open-air bath outdoor.

The outdoor bath can see beautiful scenery outside, breezes blows my face occasionally, it felt like in heaven.

After a while, people started to gathered at the bath, but everybody seemed pretty natural to see each other's nudity without any awkward feelings.

Initially I couldn't get used to a public bath, always felt its awkward. However after I went for the first time with my friend, my uneasiness went away.

I thinking there are some interesting topics about the shame culture between China and Japan.

Now in China, there are fewer public baths, not to mention the mixed public baths.

I think it is hard for Japanese to image Chinese people take hot spring bath by wearing a swim-wear.

It is a funny topic to think about.

When I dried my hair and ready to leave, there was a lady putting makeup on her face meticulously, maybe she is going to have a date.

After taking the hot spring bath, I felt my whole body became relaxed. I tripped lightly down the path.

There was beautiful sunset on the sky.


Information
| Name | Nikkotei Oyu |
| --- | --- |
| Address | 5-26 Kamijyuku-cho, Atami, Shizuoka |
| Closed | Tuesday |
| Business hours | 9 am to 8 pm |
| Fee |  1,000 yen for adults, 500 yen for children |
| Getting there | 12 minutes walk from JR Atami Station, 6 minutes walk from JR Kinomiya Station, 6 minutes walk from Atami Sun Beach. |
| Parking lot | 15 spaces |
| Toilet | Available |
| Contact | 0557-83-6021 |
| Website | http://www.asahi-net.or.jp/~ue3t-cb/spa/atami_nikkooyu/atami_nikkooyu.htm |
* Please refer to the latest info before visiting the place.