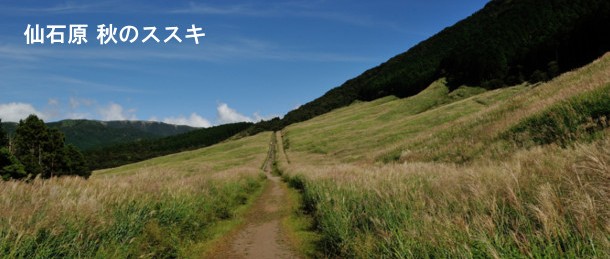 After the summer is over, autumn sets in bring cooler weathers to the highland of Hakone. Ears of pampas grass started getting bigger and gradually turned to gold.
Gleaming under the sun, large patches of pampas grass formed a magnificent landscape which was selected as the Top 50 Sceneries of Kanagawa.
Area: 18 hectares (roughly four times of Tokyo Dome)
Best viewing season: mid-September to mid November
From October 1st (Sat.) to November 3rd (Thursday/national holiday), Hakone-Tozan Bus will operate a special bus service called Sengoku Pampas Bus for every Saturday, Sunday and holidays to provide easy access for tourists who want to visit Hakone's pampas grassland.
Sengoku Pampas Bus will be operating 4 times a day, departures from Gora Station of Hakone-Tozan Raiway, after stopping at Sengoku Highland (Pampas grassland), arrives at Togendai Station.
This round-trip bus service is great for enjoying beautiful pampas grassland as well as many other attractions of Hakone.
Information
Event name
Autumn Sengoku Pampass Bus
Route:
Gora Station — Gora Park — Pola Museum of Art — Sengoku Highland (Pampas Grassland) — Togendai Station
Period:
Oct 1st (Sat.) to Nov 3rd (Thu. / holidays) of 2016
Fares
Click here for detailed fares and time table.
Contact
Miyagino Office of Hakone-Tozan Bus
Phone: 0460-86-0880
Website:
http://www.hakonenavi.jp/season_special_contents/index/4
* Please make sure the info you see is the latest info before visiting the place.