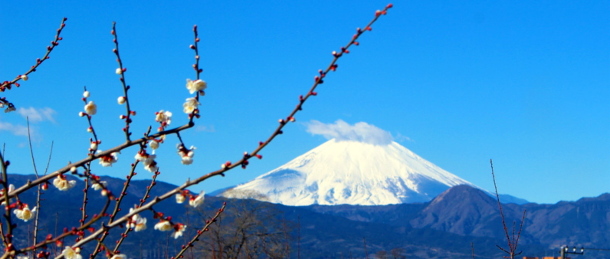 Odawara Plum Festival is held in Soga from 4 February to 5 March. Although it's a middle of January, plums have already started to bloom and I decided to go on a trip to Soga to watch plum's flowers. I'm leaving Japan in couple days and I'll not be able to see fool-blooming plums during the festival.
The most famous place of blooming plums is Soga Bairin, which means Plum's forest of Soga. It's also one of the 50 best landscape of Kanagawa. It has over 35,000 plum trees planted in this forest. Soga Bairin is actually the Ume farm and it opens for Hanami during the blossom season. Odawara Plum Festival is holding every year with food stands and poem events. At the food stands, you can buy tasty local foods of Soga. However, plums grow not only in this forest, but you can see them in private gardens and in the fields as well. Unlike blooming pink cherries, blooming plums don't look so impressive in the pictures, because theirs flowers are white. But actually, they look really pretty in real and you can feel refreshing and sweet smell of blooming plums. Such a shame, that you can't feel it by watching photos… The day of my trip was very warm and sunny and I could admire a full view of Mt. Fuji! During a winter almost whole mountain is covered with snow and looks very beautiful at the background of blue sky. As you can see, I even managed to take some pictures, where Mt. Fuji and blooming plums are combined.
Also, I visited many shrines and temples during a walk. I didn't have to search them especially in google maps, because there were many signposts on the main road. All the temples and shrines were quite small and simple buildings and there were anyone than me there, but I think, that you can feel the atmosphere of places, like those, only if it's not crowded and quite calm. The biggest one was Soga-Jinja Shrine, which is representative shrine of the Soga area. Entrance of the shrine was decorated with fresh branches of blooming plum trees.
Summary
Soga is not very popular area of Odawara's surroundings, but I think, that it's really worth visiting during the plums' blooming. Japanese events very often depend on season and it's really worth to check an actual offer, like blooming of particular flowers or watching autumn leafs. Also, it's really great chance to see a real Japanese countryside. If you sightsee only common- known tourist places, you aren't able to know all images of Japan. Then, if you can, let's come to Soga to admire blooming trees!
Weronika Golubska
Information
| Name | Blooming plums in Soga |
| --- | --- |
| 場所 | 282 Sogabessho, Odawara, Kanagawa Prefecture |
| Contact | 0465-42-1965 |
| Price | – |
| Opening hours | 4 February- 5 March 2017 |
| Access | From JR Tokaido line Kouzu station, switch to JR Tokaido Gotemba line and get off at Shimo-soga station. |
| Homepage | http://soganosato.com/index.html |
*Please check for the latest information before visiting.

* This article was written by a trainee from overseas. Please note that there might be spelling and grammar mistakes.