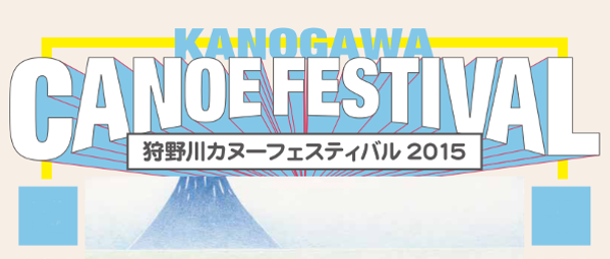 This year will be more fun and more participants too !
Canoe ride at Kanogawa sea heading to Mount Fuji! !
Talking about summer in Kanogawa, of course it will be going downstream with the canoe ☆
At 25th and 26th July, we will holding Canoe Festival near the thousand years bridge at Kanogawa Sakura Park.
(Event Schedule)
25th July (Sat.) 
Kanogawa river rafting (Please make a reservation) 
Morning session : 07:30 ~ 13:00 Course : Daimon Bridge ~ Himoriō Bridge (approximately 8 km)
Afternoon session : 13:00 ~ 16:00 Course : Daimon Bridge ~ Kanogawa Sakura Park (approximately 4 km)
Fee : 2,000 JPY ~ 5,000 JPY (price will be vary depends on the course)
26th July (Sun.) 08:00 ~ 16:00
Canoe experience and other activities at the river (Do not need any reservation)
■Kayak class (6 times)
1 person 1 turn 1,000 JPY (must be above elementary school 3rd grade)
2 person 1 turn 1,000 JPY (above elementary school) and 500 JPY (for kindergartener)
※For elementary school kids in 2nd grade or lower can only participate with an adult
■6 person boat game (8 times) 500 JPY per turn
■Stand up paddle boat experience (6 times) 1,000 JPY per turn
■River walk (4 times) 500 JPY per turn
■Canoe time race (5 times) 500 JPY per turn
Food and Drink Booth
Play at river (Wearing geta and run at the river like ninja)
※If rain the events will be held (Exception if the river water rise to dangerous level, the events will be cancelled)
Event Information
Event Name
Kano River Canoe Festival 2015
Place
Kanogawa Sakura Park, Izu City
※For canoe participants there will be a bus to go to the start point, Daimon bridge.
Address
Shizuoka Prefecture, Izu, Kuni-ichi-ji-ke
Event Period
25th and 26th July 2015
Admission Fee
See the list above
Contact
Izu Kuni-ichi Tourism Association

Phone : 0558-62-0141 / 0558-62-6300

Getting There
By Izu-Hakone railway go to Nirayama Station and walk approximately 30 minutes
Website
http://izunotabi.com/2013_1/
※ Please make sure the info you see is the latest in advance.