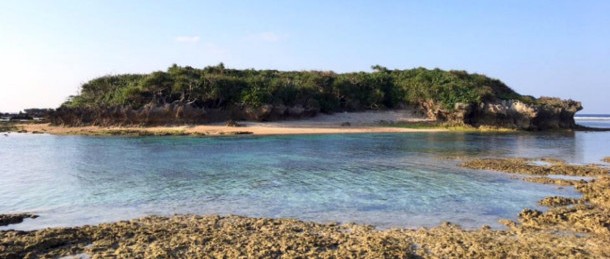 Welcome to wonderful Okinawa!
This island prefecture is well-known for its beautiful beaches, and harbors numerous hidden gems. From scenic and historical sites, to family-friendly parks and cafes, this blog will help you to discover everything worth your time exploring.
CAPE BISEZAKI
The single most prominent tourist attraction in Okinawa is surely the Churaumi Aquarium. But a mere 5-minute drive away, one will find most of the colorful marine life swimming freely in coastal waters, and none of the thronging crowd.
This is Cape Bise.
Highlights
1) The best of Okinawa – with or without a snorkel mask.
Everyone comes here to take in the crystal-clear waters with their mesmerizing hues of turquoise and viridian, right? At Bise, whether you choose to wade into the shallows or strap on a mask and take a dip, you will see colorful schools of fish swimming all around you. It's a snorkelling paradise but even if you don't want to get wet, you will still get to enjoy amazing underwater views of marine life in their natural habitats. How cool is that?
2) Spectacular beachside canyon
A beach and a canyon?? It's usually one or the other, but because of the island's unique karst terrain, here we can enjoy both together. Bise no Warumi is tucked away so well it took me three visits to finally find it. But it is well worth making the effort to search out. Just take a look for yourself.
I have yet to come across any other spot in Okinawa with such a dramatic geographical feature, but if it's there, I'll find it!
3) Heritage village
If you have a thing for quaint old villages straight out of a picturebook, then Bisezaki is right up your alley. Carefully preserved, the houses with their zinc roofs and wooded environs date back several decades. For nature lovers, the Fukugi Tree Trail is a must-do. Winding through the entire village, one can stroll or cycle in the cool shade of the thick canopy.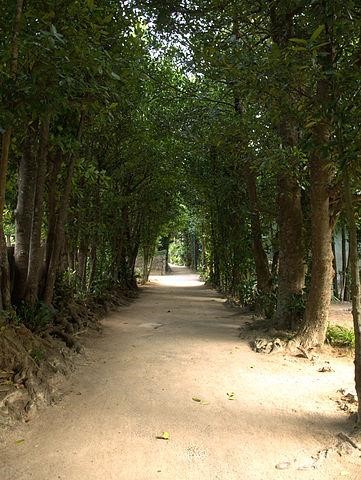 Recommendations:
To Do
Swim with the fishes. Or just try to step on as many of them as you can – just kidding! (They're too fast for us anyway). Really – the water is so beautiful, how can anyone resist soaking themselves in such wonder? Even in winter, the water is surprisingly mild – not icy as one might expect. The windchill, however, is a different matter.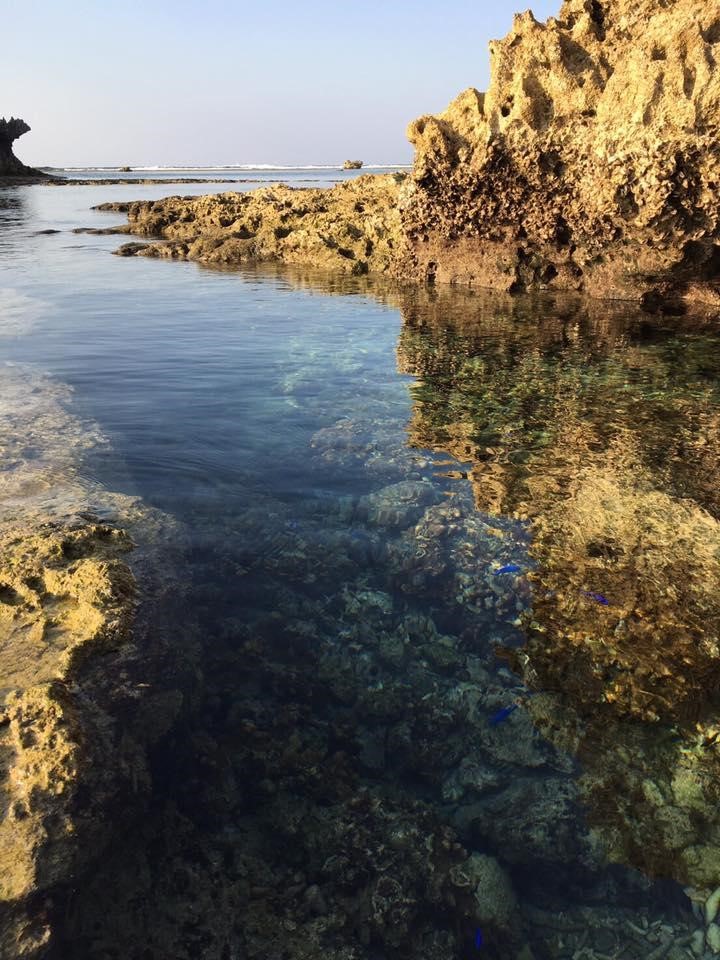 If you don't have your own gear, there is a dive shop right by the beach where you can rent masks and flippers for 500 yen per set. There is a toilet and shower where you can rinse off and change as well.
Picnic. The great thing about this place is that it's still relatively uncrowded (compared to Churaumi just slightly further down). Pack some blankets and snacks, shades and you're all set to enjoy a day out by the sea, with a view to die for.
If you forgot your picnic basket, or simply thought you wouldn't stay long but changed your mind, there's a Family Mart convenience store just a few minutes drive down the road in the direction of Churaumi. (Honestly I believe there's a convenience store just down the road pretty much anywhere on the island!)
Explore. Stroll through the village, or rent a bicycle and tackle the surrounding trails. This is also the best way to get to the scenic canyon Warumi, unless you drive there. It's not a long walk from the beach, maybe about 10-15 minutes, but long stretches of it are exposed and you'll be baking under the sun.
If you want to take it easy and see everything, but don't want to break a sweat, pay for a buffalo cart ride. This is perhaps the only place other than Taketomi island where you can enjoy this.
To Eat
Kokko Shokudo. This home-eatery deserves an article to itself. There are basically only two items on the menu, but both are so delicious you will want to go back again for sure. Whether you have the soba or the rice set, you will be having the same hot and yummy chicken broth. It has all the wholesome goodness of Grandma's home cooking (assuming your grandma cooks really really well), and best of all, you're eating at Grandma's house!
The place has only a few beautiful wood-carved tables for customers, but plenty of parking space. Bring your kids along! There is a playpen in the corner, and the host's young children are more likely than not to come out and share their toys.
Shaved ice desserts. There are at least two places that sell these for around 500 yen each. Lots of flavors are available, but I'd go for the purple yam just because it has a more local flavor about it. The larger shop is extremely spacious, and has a crafts display where you can pick up some souvenirs to bring home. Both shops are along the main road that lead past the entrance to the Fukugi Tree Trail right down to the beach parking lot.
To See
The stunning cliffscape. I know this isn't the only place in Okinawa with such scenery, but not being unique doesn't make it any less amazing. The Warumi gorge is unique though. You won't find that anywhere else on the island. Try and spot the caves set into the sides of the cliffs, where you will usually find bats and large rock-climbing crabs.
Quaint Okinawan architecture. A lot of Okinawa is made up of apartments and modern-style bungalow houses now, so it is rare indeed to find an entire village that manages to preserve the quiet mystique of the past. You will be able to see the traditional shisa (stone lion guardians), as well as some houses with the traditional red-orange curved tile roof.
To Avoid
Spiders. Why does it have to be spiders? Ugh. There are lots of the huge, scary ones that are black with yellow or red markings. I'm not an arachnologist so I can't tell you whether or not they're actually poisonous but you can't make me go near one of them with a stick. Even if it's a really big and heavy stick. You'll find these spiders everywhere along the trail, and anywhere with trees or bushes. It's also highly likely you'll find one in your hair if you're really tall.
Swimming past the surf. Even within the narrow channel, there are parts where the current is strong. However since you're close to shore and shallow waters, as well as plenty of fellow snorkelers and swimmers (usually, unless you go in winter), it's quite easy to reach safety. The shallows extend about thirty odd meters out from the shore, and you can easily see the line where the surf breaks. It gets really deep and dangerous from there. I wouldn't even recommend going anywhere near the surf (as exciting as it might seem to explore).
Partying it up. Bise is a quiet village where local folk live. Imagine someone coming to your backyard and then blasting music while trampling on your lawn. You like that? Well, these people don't, so keep it down, especially when walking the trail as it goes right past their homes.
To Have Handy
Mosquito repellent. Hot + humid + lots of vegetation = mosquitoes. Therefore bring repellent. Simply Math.
Band aids. It's easy to get cut on the limestone and corals, sometimes even if you wear protective clothing and shoes.
Strap sandals or shoes. Slippers are a bad, bad idea. My friend said bye-bye to his because the current took a liking to them. You do not want to be wading barefoot on limestone or coral. Trust me.
Getting there:
The easiest way to get here is to simply follow the the directions for Churaumi Aquarium, and then drive past the aquarium when you arrive. Continue for about 1 kilometer, and you will pass a large hotel on your left. Once you pass the hotel, you can turn left off the main road (Route 58) and take any of the small turnoffs that seem to lead you towards a line of trees.
Even though I can read Japanese, it's still really hard to recognize the signs for the place, so just trust your instincts. The roads are really narrow, and there may be pedestrians or cyclists on them so go really slow. With all the bumps and potholes, it's healthier for your car too.
The signage for Bise no Warumi is even poorer (that's why I took 3 visits to find it! Okay, I wasn't really looking the first two times). Basically you want to drive parallel to the trees heading north on one of the dirt paths. You will see a large fence-up house that almost looks like some sort of facility at a T-junction. The entrance to the canyon is right there at that junction.
Parking
There is a proper parking lot down by the beach which you pay 500 yen for the entire day. If you're on a backpacker budget, then it's best to park at the free lot right by the entrance to Bise no Warumi (the scenic canyon) and take a walk. You can also park by the entrance to the Fukugi Tree Trail, although space is a lot more limited there.
Please do not park at the residences, or block people's driveways!
Tips to make it go better:
2-in-1 Whole Day of Fun!
For those of you who want to squeeze more into a day, especially if you have to do a long drive to get here, you may want to consider doing this. Do both Churaumi and Bisezaki, and save money on tickets. Here's how to do it:
Stop at Michinoeki, which is the rest stop just after coming out of the highway at Kiyoda. Grab the special after-4 tickets for Churaumi. These cost only 1290 yen per person compared to the usual 1850 yen. The downside is you can only enter after 4pm, which means you only have 2½ hours (4 hours in summer – March to September) to spend inside the aquarium.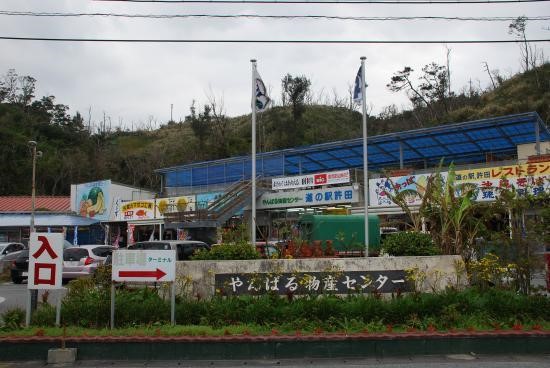 Spend the earlier part of the day outside at Bisezaki, and then pop over to Churaumi at 4pm! You can even come over earlier to do all the free attractions and facilities just outside the aquarium (but still within the grounds) if you wish.
If you have the energy for a whole day packed with activities lasting into the late evening or night, you will end up saving a fair amount by doing this.
By wyazrael
* Please check for the latest information before visiting.