In an area of approximately 0.2 square kilometers scattered over more than 500 shops.

This is the largest China Town in Japan and East Asia. Yokohama China Town along with Nankin Street in Kobe and Shinchi Chinatown in Nagasaki are the top three Chinatown in Japan.

Whenever you visit Yokohama China Town, it is always crowded with people. The street is filled with tourists today even though it is raining.

It is a must-visit area for Chinese people who came Japan.



But to me, it is just not such a funny place to visit.

The appearance of the town is similar to a random old town in China. Many shops in China Town sell a food called Niku-Manjyu, a kind of meat buns which is not so delicious to my taste.

I think maybe the town was designed for Japanese people who want to have an exotic experience of China.



There are other spots such as Yamashita Park, Red Brick Warehouse, so I'll make China Town as the second destination of my trip.

I was not interested in items sold at the shops, but interested in the name of the shops which are very funny.

These shop names are all in Chinese style. Many uses magnificent words and full of Chinese spirits.

Chinese worry about losing face, many of the names are particularly powerful. In contrast, shop name in Japan is too simple.



In addition to shops, there are a Guandi temple and other religious buildings.

People comes here to celebrate Qingming Festival, Mid-Autumn Festival, National Day, new year and other traditional anniversary together.

I think Chinese people residents in Japan are united through these annual festival and activities.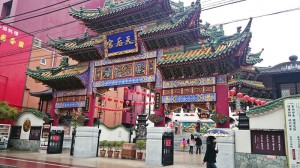 It is said that a large portion of people who residents in Yokohama China Town are those who's ancestors came from Guang Dong, a province in Southern China. However I didn't felt there are many Cantonese except there are many Cantonese style shops.

I had my lunch at a Cantonese Restaurant which is owned by a Japanese man, the taste is so so to me. To be honest I never had any expectation for Chinese foods overseas.



Many shops in China Town sell china dresses that looked so cheap using bad materials, I doubt anyone will buy it.



Maybe other Chinese is all like me, came to China Town not to enjoy it but actually intent to complaint about it. So funny!

However it is still a place worth a visit. Especially on holidays, people gathering here to feel the exotic atmosphere of China, the mood in the town may be more concentrated than in China.

Information
Name
Yokohama China Town
Address
80 Yamashita-cho, Yokohama, Kanagawa
Closed
–
Business hours
– Mon to Thu and Sun (10 am to 8 pm)
– Fri and Sat (10 am to 9 pm)
Fee
–
Getting there
1 minute walk from No. 2 Exit of Motomachi and Chukagai Station.
Parking lot
Available
Toilet
Available
Contact
TEL:045-681-6022 FAX:045-211-0593
Website
http://www.chinatown.or.jp/
* Please refer to the latest info before visiting the place.