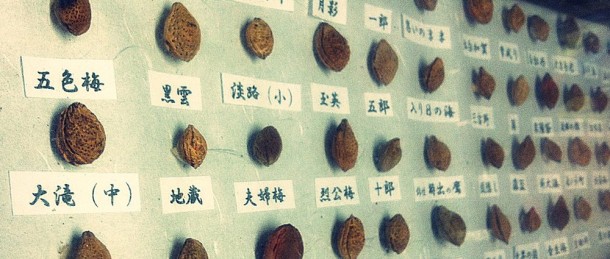 Ume-Yorozu Chinriu (Pickled Japanese Plum)
Kanran-bashi Chinriu, is a Japanese pickled plum that established at early Meiji period (1868-1912). The shop has a long history keeping the taste of Japanese umeboshi for around 150 years. Today's report we will take a look at this traditional shop.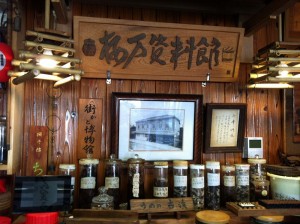 Why Umeboshi?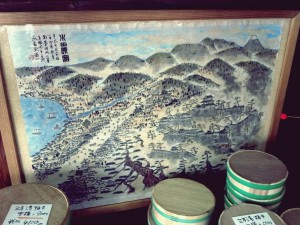 The old painting depict the old Odawara town. The shop is located near the Tōkaidō Road, it was one of the five important route in old Japan. Tōkaidō connect the east (Tōkyō) and west (Kyōto and Osaka) in Japan. Travelers back then were usually walking and the traveling could be very tiresome. Odawara is the city where the travelers take a rest before continuing to walk at Hakone which is full with mountains and hills.
Umeboshi is the right meal for them to bring. The sour taste of the pickled plum makes travelers only need to bring them a little and they can eat it with a lot of rice. (Have you ever seen the Japanese bento, with box full of rice and one umeboshi?) The pickled plum also durable for a long time, so no need to worry it gets stale.
Right now Japan already have shinkansen to travel between Tokyo and Osaka and transportation become easier. On the other hand, Chinryu shop still do their best to protect the original taste of Japan.
Chinryu Goods
The shop offers many variation of fermented plum and other fermented ingredients.
The recommended goods is the 3 years fermented umeboshi. It is the right time to eat it right now. Just a reminder, I don't recommend umeboshi for everyone. The taste is sour that not everyone can eat it and appreciate the taste that come after years of fermentation.
For the spring they also have spring-only goods. The pink salt is salt mixed with cherry-blossoms petal and also honey made from cherry-blossoms nectar. Both taste like usual salt and honey, but it is indeed goods that only available at spring.
It will be summer soon, and the goods for summer is plum juice. Made from the juice that came out when the plum is being fermented, this juice is a choice for summer.
What Else
The first picture is a collection of types of plums in Japan. The type of plum that are used in umeboshi are Juro and Nankou-ume. The other type only give us the beautiful flower sightseeing.
Other thing beside the fermented plums is the plum seed. This one is not goods for sale, but a little decoration made from plum seed. 
The store manager also served me this pretty little drink. It made from a salted sakura flower. You pour hot water once to "wash" it and make the taste less sour. Move it to other cup and pour hot water once more. I really like seeing the flower blooming inside the water, its very lovely and smell nice. She said it usually served at weeding party. I could say it taste a little lake fermented plum (well, this one is fermented sakura though), but a little light and not as sour as umeboshi. The water also makes our body warm when drink.
-Vivi-
Information
| Place Name | Kanran-bashi Chinriu (Pickled Japanese Plum) |
| --- | --- |
| Address | 4-2-37 Honchō, Odawara-shi, Kanagawa 250-0012, Japan |
| Closed Day | Close Irregularly |
| Contact | TEL:+81-465-23-1547 |
| Access | Around 15 minutes walk from Odawara station east exit |
| Homepage | http://www.umeyorozu.info/ |
* Please make sure the info you see is the latest in advance.