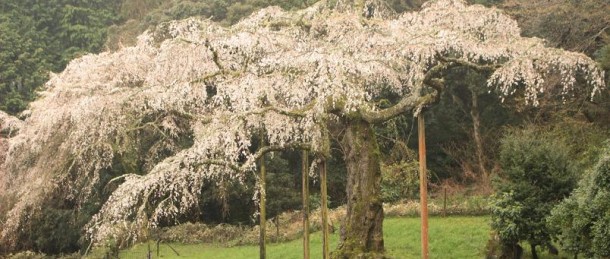 Choukouzan Shoutai-ji Shidarezakura
Choukouzan Shoutai-ji Shidarezakura (known as weeping cherry in English) is a major cherry blossoms viewing spot in Odawara. It is located a short walking distance away from Hakone-tozan line's Iriuda station. At 340 years old, 13 m tall, and 4.7 m thick, the weeping tree will takes one's breath away with its majesty.
From the side, the tree crown of the main tree seemed a lot bulkier due to the other tree beside it.
Other those two trees, there was a smaller one just a short walk upwards. It was beautiful, and one could look at it upclose.
The long drooping branches full of flowers looked incredible.
If you looked straight up from under that tree, you would see this impressive web of cherry blossoms spread out above you.
There were food and drink stalls right by the tree for one to have a meal and enjoy the view at the same time.
That is all. Hope to see you there some day!
By Desheng.
Information
*Please check for the latest information before visiting.
* This article was written by a trainee from overseas. Please note that there might be spelling and grammar mistakes.