I think there are two types of sightseeing, one is to enjoy the sceneries through your eyes and another is to have fun by participating in various events. After enjoying the beautiful landscapes of Gora Park, I decided to challenge myself by entering a hands-on workshop. There are many types of hands-on workshops in the park such as blow glass, pottery, sandblast, lamp work heads and flower arrangement, etc.
After considering a while, I made the choice of blow glass.
I got a leaflet from the shop owner, which indicates various size, colors and shapes of glass that I can choose from. While making choice on the leaflet, I noted there were many small hints, such as lighter color make the patterns of the object less obvious and effects of color mixing that should be avoided. If you choose many effects, additional charges will be applied. After choosing the shape and color you like, you haven to pay beforehand according to the materials needed. Since it will take 3 days to deliver the completed object you crafted, you may need to arrange you travel schedule. I was led by a staff into the workshop after waiting a moment. The temperature inside the workshop is high, we need to wear thick uniforms and gloves. Ever step was deliberately explained by the staff, there was no need to worry about your skill. After sitting at the operating desk, the staff brought me a half-coagulated glass object that sticked to a long rod. You have to dip some colors to the bottom part of the object, press it a lit and then put it into to oven for baking. Once the object was taken from the oven, I was instructed to blow the object hardly by mouth to make the glass object center hollowed. After the blowing, the object was put into the oven again. The second time I blow the object through a long hollowed pipe, it easily expanded to a larger shape without any efforts.
After blowing and baking for a while, the next step is to polish the surface of the object using used newspapers to make it smooth and clean. The bottom has been pressed by using tool to form a stable base for the glass. After polishing, use another iron rod to stick the glass from the bottom, cut the upper part of the glass and stretch and expand the glass to make it looks like a cup.
There were another 15 minutes followed and finally I finished my creation. The whole process including air blowing, polishing, etc. were all guided by the staff, she also help me took some photos. It was a very enjoyable experience. Although I thought it will be more funny if I can design my own patterns and shapes.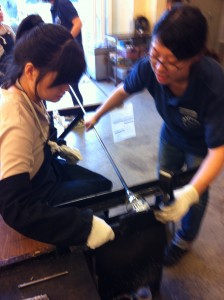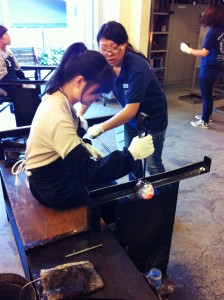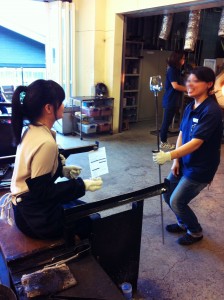 Two days later, I received the finished glass from the vendor, I really like it! I have made an elegant object with simple design and color by myself, the glass was like a newborn child to me.
Information
Name
Hakone Craft House
Address
1300, Gora, Hakone-machi, Ashigara-shimo Gun, Kanagawa
Closed
Free
Business hours
9:00 a.m. to 5 p.m.
Fee
 Admission charge for 550 yen
Getting there
Public transport: Approx. 1 minute walk from the main exit of Koen-shita Station of Hakone Tozan Cable Car.Approx. 1 minute walk from the west exit of Koen-ue station of Hakone Tozan Cable Car.

By car: from Tomei Expressway Gotenba Exit/Otometouge, via Sengokuhara to Gora, approx 30 minutes.

From Odawara-nishi Expressway exit of Odawara-atsugi Road/Hakoneyumoto, via Miyanoshita to Gora, approx. 30 minutes.

Parking lot
Normal size car 45 spaces (300 yen per hour)
Toilet
Available
Contact
0460-82-9210
Website
http://www.hakone-tozan.co.jp/gorapark/map/craft/
* Please refer to the latest info before visiting place.