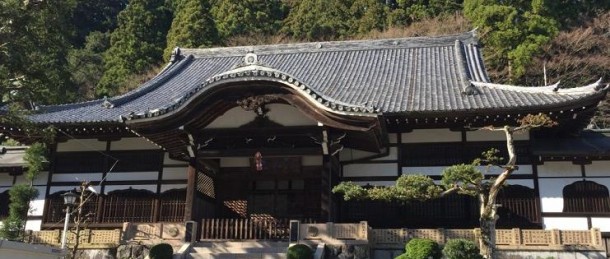 This year I visited "Daiyuzan Saijoji" for my hatsumode. I had been visiting Saijoji every year. If I had to say why, it was because this place had a solemn atmosphere perfect for hatsumode.
Right from the ascend of the first stairs, there was an overwhelming atmosphere. I absolutely love the tense vibes here.
It took quite some time from Nioumon, the entrance, to reach the main temple grounds, so I always went by a bus or taxi. Today I took a taxi to the tea house lined with souvenir shops.
I shall guide you through Saijoji with the photos I took.
Before that, let me first introduce Saijoji a little. There is a detailed explanation on the homepage, so please take a look. Note that it is only in Japanese.http://www.daiyuuzan.or.jp/
An extract from the homepage :
"Daiyuzan Saijoji is a temple of Soutoushou and contains more than 4000 different sects. The Honzon is Shakamunibutsu and Wakijibutsu. Since it's foundation 600 years ago, it is known as Kantou's spiritual spot. It has a length of 130 chou within the forest mountain, is filled with the spiritual aura of the old Japanese cedars, and has more than 30 buildings in it."
Also, from the homepage and other materials :
"Since the kaisan (opening) in the first year of the Oei era (1394), more than 620 years has passed. Starting with the gigantic metal geta that is taller than men and weighs 3.8 tonne, there were many metal geta of various sizes. The trail is lined with 400-500 years old cedar trees and has a dignified air to it. Famous for its tengu legends, such as the one where Ryoanemyouzenji's disciple Douryou spent great effort in the construction of the temple, but passed away and became a tengu. Since then he watched over the temple as a guardian."
Let's start with the gate known as the "Sanmon".
The stairs leading to Sanmon. Wasn't it intriguing?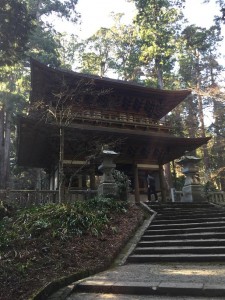 This was Sanmon itself. An impressive gate to behold.
After passing the Sanmon, there were even more stairs. They were lined on both sides with cedar trees several hundred years old. I could feel the solemn New Year vibes as I ascended the stairs.
This was the Rurimon. Right behind the gate was the study and the main hall.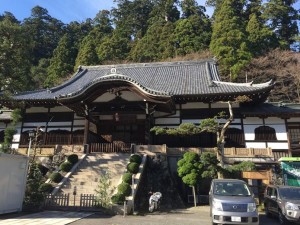 This was the study. The main hall was to the left, but I forgot to take a photo.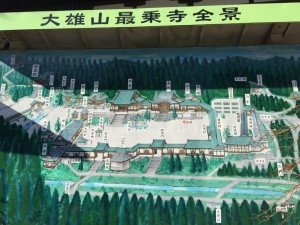 A panorama of Daiyuzan Saijoji. It was huge. I wonder how many Tokyo Domes could fit here. It could definitely fit several baseball fields.
There was a large crowd in front of the censer.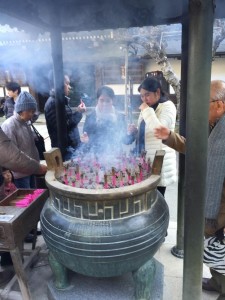 It was said that the smoke from the censer could turn bad things good. Everyone was touching the smoke with their heads, waists, or knees. I touched the smoke with my knees, but something really awful happened to them later.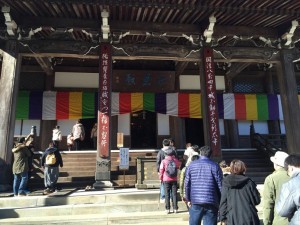 This was the main hall. Everyone who took off their shoes could enter it. I entered it and prayed for "good business" and "pass exams". I wonder if they would work.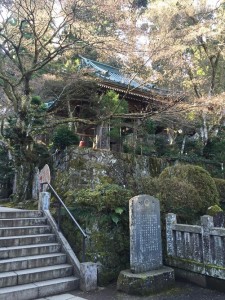 Next was "Shouukoro", a place where one could ring a bell, regardless of age.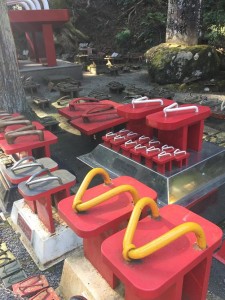 This was a tengu geta. It's made of metal. Even though it was possible to wear them, walking was impossible due to their weight. It might be possible to walk in the smallest ones though if one tried hard enough. The heavier ones weighted several tens of kilograms.
I wonder how many tonnes these were?
After passing the "Kekkaimon", there were a long flight of stairs to climb before one could reach the "Goshinden". I could still handle this much.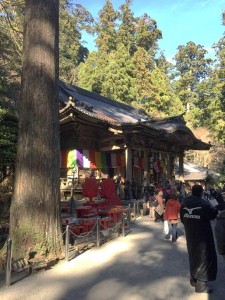 And this was the Goshinden.
Now there only remained the final and toughest stage "Oku no In", which was actually the main purpose of the visit.
The stairs leading to the Oku no In supposedly had 320 steps. I didn't count for myself, but it was probably true. It was extremely taxing on the legs.
This was the big tengu.
And this was the small tengu.
The stairs kept going on forever. My legs felt like they were going to give up on me.
And at long last I arrived at the Oku no In. I perspired plenty to reach here, and my knees were shakey.
Here I drew an omikuji, as I always did.
Amazingly, I got a "daikichi" (great fortune). Would this finally be my year? I look forward to see how it unfolds. With a much improved mood, I went behind the Oku no In.
The descend was much easier on my legs, but my knees still hurt.
There were such booths along the path, but apparently they only came on New Year days.
That wraps up the report. Thank you for reading.
Information
Name
Daiyuzan Saijoji
Location
1157 Daiyūchō, Minamiashigara-shi, Kanagawa-ken 250-0127
Contact
0465-74-3121
Access
By train:
Odawara station to Daiyuzan station (Daiyuzan line 21 minutes)
Daiyuzan station to Douryouson (bus 10 minutes)

By car :
Oimatsuda interchange to Douryouson (20 minutes)
Odawara to Douryouson (30 minutes)

Parking
Free parking
250 lots

Homepage
http://www.daiyuuzan.or.jp/
*Please check for the latest information before visiting.
* This article was written by a trainee from overseas. Please note that there might be spelling and grammar mistakes.