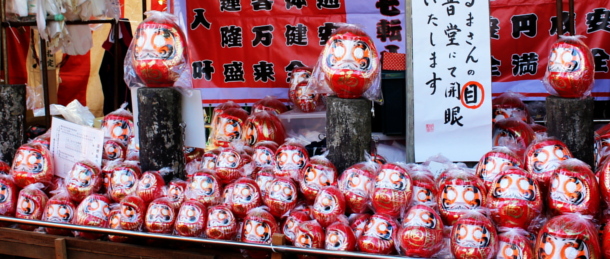 Izumi Kannon Daruma Market is held around the Shofukuji Temple in Odawara. It is the earliest Daruma market in the Kanto region. Every year The Shofukuji Temple attracts many people, who come on the daruma market to buy Daruma dolls for a new year.
When I got to the daruma market, I saw a lot of booths with snacks, like on a regular festival I have participated many times before. But when I came closer to the teple, I saw many shops with characteristic Daruma dolls. Daruma doll is one of the most popular talismans of good luck in Japan. It is made of paper mache, weighted on the bottom so it always stand up, even when pushed- symbolic of Bodhidharma's persistence in meditation. As you can see in the pictures, Daruma is sold without painted eyes. Exept of them it has two white empty spaces. The thing is, that when you buy daruma, you draw one of Daruma's blank eyes to signify your commitment to achieving your goal of a new year. When you achieve your goal, you draw in Daruma's other eye to express your gratefulness. Meybe that's the reason, why Japanese achieve their goals so easily?
Shofukuji Temple is worth visiting even on a simple day, because it's richly decorated inside and outside as well, what make very impressive. I was very lucky, that I could take some pictures inside the temple, because there was a monk inside, who was taking daruma dolls in his hands one by one and act some special ritual. When I went behind the temple, I saw, that there is a fireplace over there with burning dolls. Actually, at the end of a year, all the Daruma are brought back to the temple they were purchased from for a traditional burning ceremony. After expressing gratitude to Daruma, people turn it over to the temple and buy new ones for the next year. After a solemn display of the monks' entry, reading of the sutras and blowing of horns, the tens of thousands of figurines are then set aflame.
Summary
Participating in local events, like the Daruma market is the best way to know Japanese culture better. When you are going to come to Japan around Christmas and New Year, you should definietly come on Daruma market! No matter, to which region where you're planning to come, Daruma markets are popular in all country.
Weronika Golubska
Information
Name
Izumi Kannon Daruma Market
Location
Shofukuji Temple
1143 Iizumi, Odawara, Kanagawa Prefecture 250-0863
Contact
0465-47-3413
Price
–

 


Opening hours
Every year on 17/18 December
Access
From Odawara Station, take a bus bound for 'Shinmatsuda/Shimosoga Station', take off at 'Izumi bashi' and walk by 10 minutes
Homepage
http://www.city.odawara.kanagawa.jp/kanko/event/DEC/darumaichi.html
*Please check for the latest information before visiting.
* This article was written by a trainee from overseas. Please note that there might be spelling and grammar mistakes.