Doppo no Yu is a famous Onsen location in Yugawara area, but it is not a kind of normal bath, but a foot bath in Onsen style!

My destination today is Doppo no Yu in Manyo Park.

I was lucky to had a look of Mt. Fuji this morning, which I think means I will have a very lucky day. Because Mt. Fuji sometimes cannot be viewed due to weather conditions, I assume this is a lucky sign.



It is said in legend that there was a good-natured fox who transfigured in to a human to bring injured people to the Onsen, to help them cure their injuries and pains.
These days, fox had become a popular mascot in Yugawara.
When I walked out the exit of the station, I saw two fox statues stood at the gate.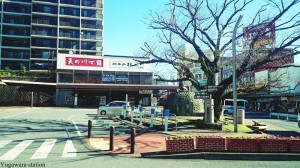 After left the station, I went right to the Manyo Park. I planed to take a nice foot bath and take a tour of the park.
Doppo no Yu is composed of 9 types of Onsen ponds where you can put your feet in the hot water for best relaxations.
The admission fee was cheap, it only cost 300 yen each person. Although the fee is cheap, but the fun in the park is not subtracted at all.
There were already many tourists in the park.


I first went to Heisei-no-Izumi, an Onsen has the effects of bring peaceful mind and soothe the nerves.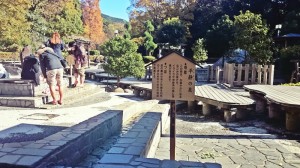 Hikotsu-no-Izumi. Regulate endocrine and metabolism of the body.

Hikou-no-Izumi. Moisturize the skin.
The temperature of the water is high, I couldn't put my feet in at first.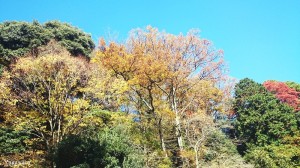 Choubi-no-Izumi. Good for intestinal tract and nasal. Can treat hay fever and constipation, etc.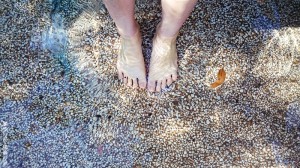 Other onsen baths include: Shikou-no-Izumi, Yorokobi-no-Izumi, Jinji-no-Izumi, Myakui-no-Izumi, etc. These onsen foot baths are with different temperatures, and different in the shapes and depths of the ponds, offer various massage functions for different parts of the body.

I met an old lady who is from Tokyo with her friend.

Seeing me alone, she greeted me warmly, we chatted for a while.

She told me she had visited Yugawara last year, thought it was a very beautiful place, this year she decided to visit here again with her friend to enjoy the beautiful autumn scene.

I feel the same way that Yugawara is such a nice place to visit again.


Information
Name
Doppo no Yu
Address
704, Miyakami, Yugawara
Closed
Last Thursday of each month
Business hours
10 am to 6 pm
Fee
300yen for adults,age above 15; 200 yen for middle and elementary school students.
Getting there
Approx. 3 kilometers from Yugawara Station
– By taxi, 7 to 8 minutes
– By public transport, take a bus from No. 2 bus platform of Yugawara Station, it takes approx. 15 minutes to reach the destination.
(take a bus for Fudo-taki Waterfall and Okuyugawara Area, get off at Ochiaibashi or Kouen-iriguchi)

Parking lot
Available
Toilet
Available
Contact
Tel. 0465-63-2111 FAX. 0465-64-0300
Website
http://www.town.yugawara.kanagawa.jp/kankou/guide/dopponoyu.html
* Please refer to the latest info before visiting place.