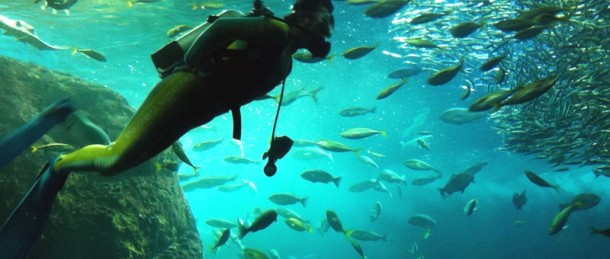 Enoshima Aquarium

On the way to Enoshima Aquarium, I saw Mt. Fuji at the far end of the horizon. The top of the mountain was covered with thick snow, on this sunny day, it looked like Mt. Fuji is located alongside the other end of the sea. Mt. Fuji is beautiful, no matter viewed from which direction, it always remains a perfect symmetry. However its scene changes by various seasons, it is a mountain loved by people of Japan.

The Mt. Fuji I saw today stood quietly at the winter seaside, looked pure and bright.



There were fewer people on the Nishihama Beach. The beach is formed by black fine sands with many shells scattered on it. I was so glad to see shells. I had been to many sea side in the past, but I had never seen so many shells on the beach. So I walked on the beach collected many shells.

The wind blows and it is chilly at the beach, but there were a bunch of people enjoying surf.



The external view and entrance of the aquarium.



The aquarium is large inside, it is divided into 12 sections exhibiting plenty species of marine creatures mainly focus on the promotion and introduction of ecosystems around Sagami Bay.

I met a lot of marine creatures here all with vivid colors and funny shapes. The aquarium made me think that the world is so broad, there are just many new things and creatures I had never seen. I wonder what the creatures think about our human beings, to the creatures, being watching from outside of the water tank maybe doesn't make any difference, we are just a bunch of strange creatures wearing cloths to them.


The Sagami Bay Zone is a large water tank exhibiting the ecosystem of Sagami Bay in a meticulous way. There are professional staffs who dived in the tank plays with fishes to entertain the spectators. A swarm of sardines gathered in the middle of the tanks forms a large silk tornadoes, I was a bit terrified by the scene. A ray which looked like it is smiling is doing a good job with the fish keepers to perform a smiling shows to the spectators.


Another exhibition zone with glamour lights and flashes is the Jellyfish Fantasy Hall which exhibiting various types of jellyfish with different colors and shapes. Jellyfishes looked like small umbrellas floating in the blue sea water.



Pengins and sea lions looked so cute! They can move so quickly than I had thought.



Large sea turtles have their home set in the open air zone of the aquarium. They basking in the sun lazily without any movements.



I waited to 1 pm to watch the sea lion and dolphin show which is so fantastic.

Sea Lion look gruff, followed the keepers do the same actions, and greets the audience, very cute.

Perhaps it is easier to establish a trustworthy relationships between animals than between human beings, human world is just so complicated.

Dolphin has always been man's best friend. Watching them swimming, leaping, I felt like I am swing freely with them in the sea.

I think dolphins are far more clever than humans.



From the outside area of the aquarium, I saw Mt. Fuji at the far end of the horizon, there came strewn with seashell beaches, warm sunshine, all these made me so happy.



However, when I wrote this diary, my classmates in China are busy discussing how severe is the employment situation, how you don't see hope for the future.

If we had lived pure beautiful every day, then we will certainly not complacent.


Information
Name
Enoshima Aquarium
Address
2-19-1 Katase Kaigan, Fujisawa, Kanagawa
Closed
January 27 (Tue) to January 29 (Thu) of 2015
Business hours
10:00 to 17:00
Fee
2,100 yen for adults, 1,500 yen for high school students, 1,000 yen for middle and elementary school students, 600 yen for children below school age.
Getting there
3 minutes walk from Katase Enoshima Station of Odakyu Enoshima Line.
10 minutes walk from Enoshima Station of Enoshima Dentetsu Line.
10 minutes walk from Shonan Enoshima Station of Shonan Monorail.
Parking lot
Available
Toilet
Available
Contact
0466-29-9960
Website
http://www.enosui.com/
* Please refer to the latest info before visiting the place.