Hi everyone once again. For the very first time I had a professional tour guide to show me around! The tour group was known as "Explore Hakone", and boy I sure had a wonderful time thanks to the amazing tour guide.
By the way, this would also be my first ever visit to Hakone. Even though this was a website about travelling in Fuji, Hakone, and Izu, I only visited Hakone for the first time after so long. My apologies.
Let's start by introducing the tour guide. Kaneko Shin was a Hakone-born tour guide who spoke perfect English. In a country with so few people capable of speaking English, that alone was a good enough reason to pick him as tour guide. For your information, Shin majored English in a Californian university.
The tour started with Shin picking me up at Odawara station and driving me to Hakone. He could also pick you up in Mishima or Hakone-Yumoto if you wish.
The first stop was a Yosegi-zaiku shop, which displayed and sold Yosegi art. Yosegi-zaiku was a traditional Japanese woodcrafting method that produced intricate pieces of art. Art lovers would have a wonderful time here.
Shin explained to me in details the history and process of this form of art. Yosegi-zaiku was one of the three traditional crafts of the Kanagawa prefecture, the other two being Odawara lacquer and Kamakura-bori. It involved a very tedious process of cutting sections of different woods and glueing them together.
These were the simpler ones…
And these were the more intricate (and expensive) ones.
The second stop was a stretch of road outside the Yosegi-zaiku shop with historical significance. It was called "Hatajuku", and it was a rest stop for travelers back in the days when Kyoto and Edo (old Tokyo) had to be traversed on foot. Again Shin explained in great details about the place.
Back in the Edo Period, there were 53 rest stops in-between Edo and Kyoto, starting from Nihonbashi in Edo to Sanjo Ohashi in Kyoto. This route was known as the Tokaido Gojusan-tsuji, and it was the only way to travel between the two cities back in those days. One of the toughest parts of the journey was Hakone, which required passing through the mountains of Hakone. As there was no rest stop between Odawara and Hakone amongst the 53, an unofficial rest stop known as Hatajuku was built to serve travellers.
Next was a tea house of yet again great historical significance. The Amasake chaya was one of the only four tea house in the area serving the sore-footed travelers of yore, and today it was the only one left standing.
We had a cup of sweet sake here and rice cakes with black sesame seasoning. They tasted heavenly.
Hakone shrine was next. Right outside the shrine was Lake Ashi.
This was the famous Torii at Hakone shrine. It was one of the few Torii submerged in water, and it sure looked majestic standing over Lake Ashi the way it did.
Hakone shrine was one of permanently crowded places. It was a shrine with a very long history. Once again, Shin taught me about its origin and an interesting myth regarding the nine-headed dragon that resided in Lake Ashi.
I cleansed my hands and offered a prayer here.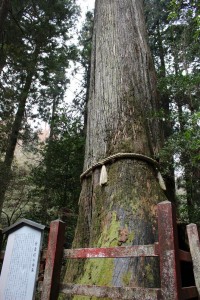 One last note-worthy thing here was this huge tree. The three patron gods of Hakone shrine were family, therefore this tree was believed to possess spiritual power to aid childbirth. I saw quite many pregnant ladies touching the tree.
By then it was noon, and we went for lunch at a place near Lake Ashi. I had this delicious wakasagi set meal. Wakasagi was a fish native to Hokkaido, but had since been introduced to other parts of Japan. These wakasagi were caught in Lake Ashi, which was right beside the restaurant, so they were really fresh. The wasabi was really strong and went well with the fish.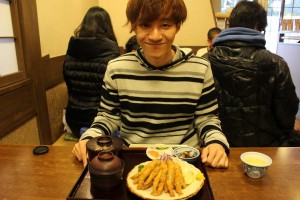 The fifth stop was the Hakone Detached Palace. An old imperial summer palace with a well-maintained garden and a great view of Lake Ashi and Mt. Fuji.
This park offered a magnificent viewing spot of Mount Fuji, Lake Ashi. For those with a really good camera, the Torii of Lake Ashi could be captured as well. Unfortunately I happened to pick a cloudy day so all I had was a view of a misty lake.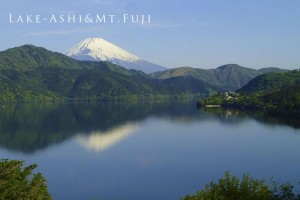 This photo, courtesy of Shin, was the kind of mind-blowing view you could get on a clear day.
Sixth stop was the Hakone checkpoint of the old Tokaido road, and a major checkpoint back in the Edo Period.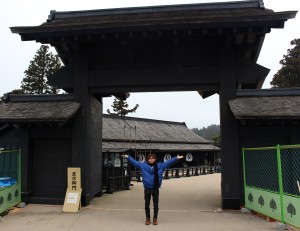 Thanks to the patient tour guide I was able to more or less understand what life was like back in those days.
At each checkpoint, the idea of "iri deppo de onna" (guns inward, women outwards) was enforced. In order to supress potential uprisings by nobles, the Shogun would force their wives and daughters to live in Edo, essentially as hostages. In order to stage a rebellion, nobles had to get their wives and daughters out of Edo as well as weapons into Edo, and that was precisely why the checkpoints checked these tightly. Apparently women would disguise as men to sneak out of the capital back in those days.
These weapons were used by checkpoint guards back then. Scary.
Next up was a road lined with gigantic cedar trees. These trees served as windbreak for travellers between Moto-Hakone and the Hakone checkpoint.
For the second last stop Shin drove me to his place for a cup of tea. His place was a traditional Japanese house and had a fascinating architecture.
The photos were of his Western-style guest rooms, where he held exhibitions in certain periods of the year.
The inside of his place looked like this. Truly traditional indeed. You could visit his place as part of the tour. Now that's not something many tour guides do huh.
The tour ended with a visit to a nice and quiet onsen inn known as "Hoeiso".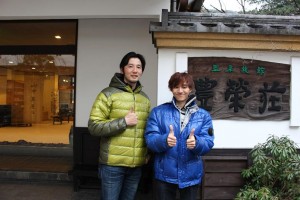 It had an outdoor hot spring bath facing a river and mountains. This was one of the better onsens I have experienced. You could hear the river and bird songs while having a soak. I must emphasis that this was a quiet place not overflowing with tourists, and that's a big plus in my book. Shin and I had the bath all to ourselves for a good 30 minutes.
And that's the end of my guided tour. To summarise my experience in a few words, go for this tour if you want to tour Hakone with a guide born and raised in Hakone, speaks perfect English, explains the story behind each location, and knows all the nice places only locals know about.
By Desheng.
Information