Fudo-taki Falls / Godan-no-taki Five Steps Falls
Address 750, Miyakami, Yugawara-machi, Ashigarashimo-gun, Kanagawa
Parking lot Approx. seven free parking lots
Access by public transport: Get off at the "Yugawara Station" of the JR Tokaido Line, from there take a bus for "Fudo-taki Falls", after get off the bus, walk for 1 minute.
Photo taken on Nov. 2011.
Fudo-taki Falls
This famous waterfall is one of the five great waterfalls of Yugawara area, it is 15m in height. (The five great watefalls of Yugawara are Hakuun-no-taki, Kiyomi-no-taki, Godan-no-taki, Daruma-taki and Fudo-taki) The waterfall was named after the Fudo-Meiou statue at the side of the waterfall.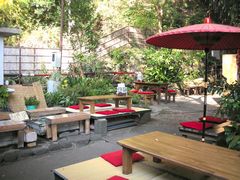 Fudo-taki Tea House
You can enjoy a tea break in at the side of the Fudo-taki waterfall. Have some sweet treats while enjoying a magnificent view of the waterfall must be wonderful. You can also enjoy the foot bath in the store.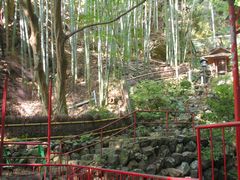 Scenery around the Fudo-taki Fall
The waterfall is surrounded by beautiful bamboos and trees. There is a Shusse-Fudo-Son Shrine located at the side of the waterfall, created a mysterious atmosphere. A beautiful mountain stream streams down the whole town and steam of the hot springs rose from everywhere, it is a country of hot spring with extraordinary beautiful scenery..
Shusse-Fudo-Son
Fudo Tea House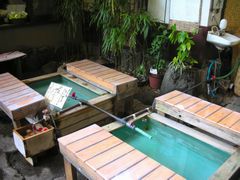 Footbath at the Fudo Tea House
Mountain stream around the Fudo-taki Falls
Godan-no-taki (Five Steps Waterfall)
It is located at a 5-minute walk from the Fudo-taki Falls. This is another waterfall listed as one of the five great waterfalls of Yugawara, it is 100m in length. The name of the waterfall, Godan (means five steps) was named after its shape looks like there are five steps in the waterfall. The source of the hot spring flows from around the mountain stream and is filled with steam.

※ This article is provided by the courtesy of "Usagi no Heya (Rabbit Room)", the blog provides tourist attractions information of Kanagawa Prefecture and the surrounding areas including Izu, Hakone, Kamakura, Yokohama and Yamanashi. http://livesnow.web.fc2.com
※ Please make sure the info you see is the latest in advance.