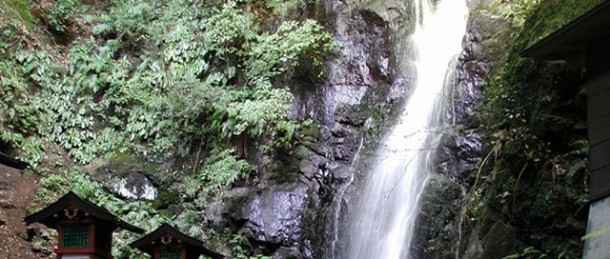 The quantity of water is rich in spite of the short range of 15m. There are guardians on the both sides, Migawari-Fudouson on the left (health) and Shusse-Daikokuson (wealth) on the right.
There is a tea house near the waterfall, too.
◎In the Fudo-taki fall in 1931 Yugawaralite was discovered by Dr. Kinichi Sakurai.
The discovered yugawaralite in the Fudo-taki fall in Izu Peninsula was discovered from the oldest Neogene Yugashima Island layer.
The zeolite had been found back up along the Fujiki River to Oku-Yugawara, Yugawara water purification plant, neighborhood of some bridge. Also other zeolites are produced here such as laumontite, mon den zeolite , epistilbite ,chabazite.
The mine of the zeolite stone matches perfectly to the spa source. It's obvious that stone and spring have certain relations.
Basic Information
| Name | Fudo-taki Falls |
| --- | --- |
| Address | 750, Miyakami, Yugawara-machi |
| Business hours | — |
| Fees | Free |
| Parking lot | Free parking available |
| Contact | — |
| Getting there | from Yugawara Station : Bus for Oku-Yugawara/Fudo-taki fall and get off at "Fudo-taki fall" (seat-load time approximately 20 minutes) |
| Website | http://www.yugawara.or.jp/ |
※ Please make sure the info you see is the latest in advance.