Fuji Shibazakura Festival is an event held from mid-April to late-May every year when various shibazakura (moss phlox) blooms around Ryujin-ike Pond. Ryujin-ike Pond is a popular spot to watch "Diamond Fuji", which refers to the moment the sun barely rises above the peak of Mt. Fuji and resembles a diamond sprouting out of the mountain. During this period of time, the pink moss together with Diamond Fuji makes for a picture perfect scenery.
It was said that some time before year 800 A.D., a Dragon God rose out of the Ryujin-ike Pond and warned of a volcanic eruption by Mt. Fuji. Heeding his warning, villagers evacuated the vacinity and were saved from the eruption. The shibazakura fields were designed in the likeness of the Dragon God out of respect, although this would only be apparent from a bird's-eye view.
I visited on a bus tour, and arrived far too late for Diamond Fuji. Also, the sky was cloudy so Mt. Fuji was totally blocked in the first place. Still, the focus of the day was shibazakura, not Diamond Fuji, and I got plenty of those.
There was a small mound shaped to resemble Mt. Fuji. A pink Mt. Fuji.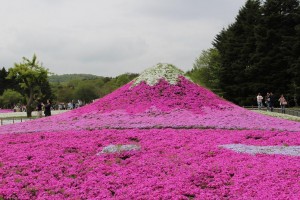 Here's a photo shows a patch of shibazakura in the likeness of Diamond Fuji. Tilt your head to the right and look at it.
To those wondering what they look like upclose, here you go.
Left : Tamano-nagare
Right : Oakington Blue Eyes
There were flowers other than shibazakura here as well.
This is a really popular tourist spot, so go very early in order to avoid the crowd. Also, be sure to pick a sunny day to visit.
By Desheng.
Information
Name
Fuji Safari Park
Location
〒401-0337 212 Motusu, Fujikawaguchiko, Minamitsuru Yamanashi
Contact
0555-89-3031
Price
Above middle school : 600 yen
From 3 years old to elementary school : 250 yen
Opening dates and hours
16/04/2016 ~ 29/05/2016
8:00~17:00
Access
From Shinjuku, take the Chuo highway bus directly to the venue (2 hours 25 minutes).
From Kawaguchiko station, take the Shibazakura liner (30 minutes).
Homepage
http://www.shibazakura.jp/eng/
*Please check for the latest information before visiting.
* This article was written by a trainee from overseas. Please note that there might be spelling and grammar mistakes.