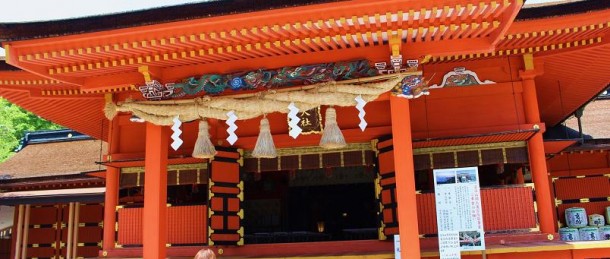 Fujisan Hongū Sengen Taisha Shrine
Fujisan Hongū Sengen Taisha Shrine is a Shinto shrine located in Fujinomiya. It is the head shrine of the Asama faith which worships "Asama no Okami", the God of Mt. Fuji, in order to pacify him and prevent eruptions. Like Shiraito Falls, it is one of the 25 sites related to Mt. Fuji designated as world heritage by UNESCO.
Like any other shrine, there wasn't much to do here on an ordinary day besides appreciating the architecture. Asama faithful performs their usual ceremonies here occasionally. Also, on 5 May, there was the annual Yabusame (Japanese mounted archery) festival held on the shrine grounds. Perhaps one could also check out the Wakutama Pond.
The first notable structure was this huge torii.
From a good angle it's actually possible to frame Mt. Fuji within the torii. I wasn't aware of that until later, unfortunately. Visitors take note.
And then there's the gate, called Romon.
Lastly was the main shrine.
I believe this girl was praying for something other than Mt. Fuji to not erupt. Despite its mountain worshipping origins, I believe this shrine is treated like just all other shrines now. At least to an average visitor.
Something noteworthy in the shrine grounds would be the Wakatama Pond. It was one of the largest Mt. Fuji springs, and its water was snow melt from the sacred mountain. Pilgrims and visitors could drink the water with a small donation in the form of buying empty water bottles to fill the water with.
According to the shrine's records, during the Muromachi period, pilgrims would perform a cleansing ceremony at the pond before they ascended Mt. Fuji.
The air around the pond was cool despite it being a warm day. A great resting spot.
And that about sums up the shrine. Mountain god worship is pretty new to me, so I had my horizons broadened here. Otherwise it's a nice and peaceful shrine good for a short visit. I suggest visiting the nearby Shiraito Falls after or before this.
By Desheng.
Information
| Name | Fujisan Hongū Sengen Taisha |
| --- | --- |
| Location | 1-1 Miyacho, Fujinomiya, Shizuoka Prefecture 418-0067 |
| Contact | 0544-27-2002 |
| Homepage | http://fuji-hongu.or.jp/sengen/english/index.html |
*Please check for the latest information before visiting.
* This article was written by a trainee from overseas. Please note that there might be spelling and grammar mistakes.