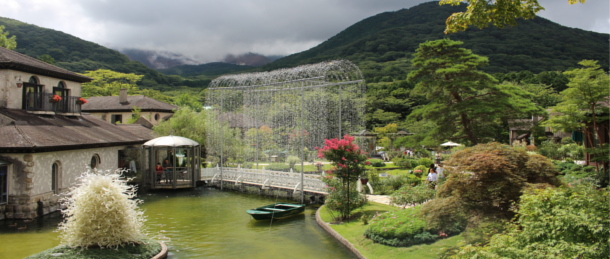 You are using things made from the glass every day, but have you ever looked at the glass like at the piece of art? Except of mirrors, glasses and windows, the glass is using as a perfect raw material for the production of beautiful masterpieces. If you want to uncover various images of the glass, you should come to Hakone Garasumori Museum!
The museums
The first thing, which attracted my attention was the big installation made from glass grains, which decorated the bridge。 When I crossed this shining bridge, I walked into the Venetian Glass Museum. There are many kinds of the venetian glass, which forms and techniques had been changing within the years. You can see there enameling glass, lace glass, engravering glass and so on. However, for me the most fascinating one, was the colored glass type. I really admire the perfectionism of the artists, who represent that style and the combinations of colors.
The next one on my route was the Venetian Glass Modern Museum. The most visable features of works made by modern artists, were the unique shapes and the big sizes. They prove that the glass has limitless possibillities as a raw material. In the same building, there is a Museum Shop. Usually, I avoid places like that, because things sold there are definietly too expansive, but this time, I didn't regret that I came into. Actually, items set on the shop's shelfs seemed like a next part of exhibition. Even if you don't want to buy anything, it's really worth seeing.
'Garasunomori', which means 'forest of the glass'
'Garasunomori' is a perfect expression to describe the area around the museums. Garden full of greenery, flovers and trees compose perfectly with istallations made from glass. In my opinion, the most creative were 'Palazzo Ducale Shandelier' and 'Flashtree'. Moreover, if you go there with children, you should definietly go to the 'Experiance Studio', where you can try your hand at making your own glass accessory. People inspired by the seen exhibitions, can create amazing masterpieces there.
Summary
Hakone Garasumori Museum is full of attractions for adults and for children as well. Except of watching exhibitions, you go for a relaxing walk among the fascinating installations composed into the nature. There are some cafes and restaurant there, so you can spend there a nice day with family and friends. I'm sure, that you will leave that place in really great humor!
Weronika Golubska
Information
Name
Hakone Garasunomori Museum
Location
Kanagawa Ashigarashimo-gun Hakone Sengokuhara 940-48
Contact
0460-86-3111
Price
Adults 1,500 yen
University/High School Students 1,100 yen
Elementary-Junior High School Students 600 yen
Opening hours
9:00-17:30 
Access
Get off at Odawara sta. on the JR line, Odakyu line etc. or Hakone Yumoto sta. on the Odakyu line and take a Hakone Tozan bus bound for Togendai and get off at Hyoseki/Hakone Glass no Mori Mae 
Homepage
http://www.ciao3.com/top.htm
*Please check for the latest information before visiting.
* This article was written by a trainee from overseas. Please note that there might be spelling and grammar mistakes.