I had a trip to Hakone on October 14th by my company's car. The destination of my trip was the well-know Hakone Gora Park. Gora Park was opened in 1914, it only opened door to the people of upper class in the past, there are gardens both in western style and traditional Japanese style. Gora Park now is mainly consisted from seven areas: Rose Garden, Tea Room Pic, Hot Takeout, Haku-undo Tea Garden, Tropical Flora House, Bougainvillea House and Hands-on Workshop Craft House.
The weather was great all the way, under the sapphire blue sky, sunlight filtering through trees on the roadside. In addition to the thick green trees, there were many Onsen Ryokan (Small inn with hot spring facilities), I realized I had entered a famous town of hot spring. The temperature was getting cooler and cooler when climbing toward the upper parts of the mountain, there were steep slopes on the roads and I had a false sense of being in my hometown, Chongqing which is also a city with mountainous landscape.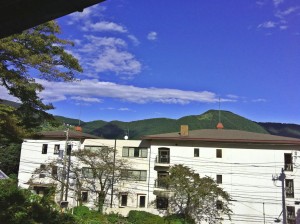 After arriving at the park, I paid the admission charge and walked into the Tropical Flora House located at the right side of the main gate. This tropical flora house is not so big, after taking a stroll for a while, I left the house and entered Bogainvillea House. It is also a small facility, but it was filled with seasonal flowers and looked very elegant, I lingered in this house for a long time. There was a bench under the kudzu, petals of flower scattered on the ground, sitting on the bench made me feel like a fairy who was looking for happiness and wonderful things. Sunlight shines through the transparent glass window on the roof, passing through flowers and leaves, making light spots on the ground and my boday, what a pleasant Autumn afternoon to spent!
The house was holding a Mountain Flora Exhibition that day, various flowers had been put in bonsai style exhibited in a small glass house. Beautiful colors and shapes of flowers attracted many bees and butterflies. I was attracted by an amazingly designed bonsai which was planted in a rock bowl, there is a nature feel about it. There was a dead wood laying on the ground, small white flowers flourish from the cracks of the wood. Although it is Autumn now, I felt spring and full of vitality in this room.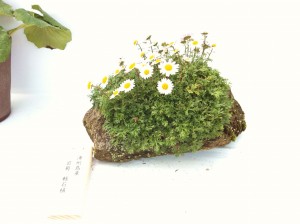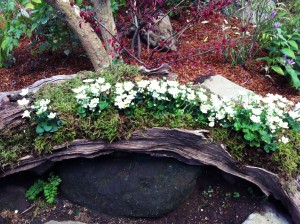 After the Bougainvillea House, I went to Haku-undo Tea Garden. There was a bamboo door with modest design, I passed through it, there was no any tourists, I tried not to make any noise just in case to break the tranquilness of this facility. The three top modern tea ceremony masters of Japan all visited Haku-undo in the past, it contains the tea rooms by the name of Donno, Sankei and Mimian. Tourists can experience real Japanese tea ceremony at here. I was not use to the kneeling on the Tatami and I hate old etiquette, so I hurried to the other places. After leaving the Tea House, there was a cafe located at a high ground withe a nice view of the beautiful fountain. Passed the fountain, there was a big cedar tree, the trunk of the tree was so thick, seems one adult can not hug the trunk with two stretched hands. The tree was so big which was outstanding under the blue sky. After passed the cedar tree, climbed on the stone steps, I arrived at the Rose Garden. There were only fewer flowers now in the garden, but I assume it must be a astonishing view when the garden is in full flourish. Every flower look so sophisticated and elegant. After passing through a small pavilion of Rose Garden, I arrived at the west gate of the park, next I went to the hand-on workshop to experience the making of some handicrafts. There were several experience activities I can choose from, I decided to try the glass blowing art for leaving a sweet memory for my trip.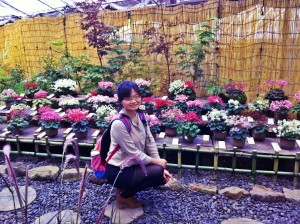 Many tourist in the park were speaking in Chinese, which is my mother tongue, I felt very plesant. Hope more people from china can have a chance to visit this beautiful park, Gora Pak.
Information
Name
HAKONE GORA PARK
Address
1300, Gora, Hakone-machi, Ashigara-shimo-gun, Kanagawa
Closed
Free
Business hours
9 a.m. to 5 p.m. *Admission stops at 4:30 p.m.
Admission ticket
550 yen for adult, 350 yen for group tourists (20 people or more)
Getting there
Public transport: Approx. 1 minute walk from the main exit of Koen-shita Station of Hakone Tozan Cable Car.
Approx. 1 minute walk from the west exit of Koen-ue station of Hakone Tozan Cable Car.
By car: from Tomei Expressway Gotenba Exit/Otometouge, via Sengokuhara to Gora, approx 30 minutes.
From Odawara-nishi Expressway exit of Odawara-atsugi Road/Hakoneyumoto, via Miyanoshita to Gora, approx. 30 minutes.
Parking lot
Normal size car 45 spaces (300 yen per hour)
Toilet
Available
Contact
0460-82-2825
Website
http://www.hakone-tozan.co.jp/gorapark/intro/
* Please refer to the latest info before visiting place.