Address 7-1, Senpuku, Susono-shi, Shizuoka (inside the Chuou Park of Susono City)
Parking lot Approx. 30 free parking lots
Access by public transport: Get off at the Gora Station of the Hakone-Tozan Railway and walk for 5 minutes, or get off at the Kouen-Shimo Station of the Hakone-Tozan Cable Car Line, and walk for 1 minute.
Photo taken on July 2013 (updated on July 2013)
Goryu Waterfall
The waterfall is located in the Chuou Park of the Susono City. It is 13 meters in heights, the complete view of the waterfall can be viewed from a suspension bridge. The nearby Chuo Park is a park which has Japan's national important cultureal propety, the House of the Uematsu Family and the Taiko Bridge, etc. There are also Soba noodle restaurant and other restaurants in the park.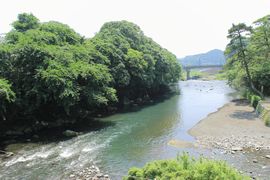 The neighboring Kise River
Scenery from suspension bridge
Neighboring sceneries
Scenery from a suspension bridge (2)
Goryu Waterfall

※ This article is provided by the courtesy of "Usagi no Heya (Rabbit Room)", the blog provides tourist attractions information of Kanagawa Prefecture and the surrounding areas including Izu, Hakone, Kamakura, Yokohama and Yamanashi. http://livesnow.web.fc2.com
※ Please make sure the info you see is the latest in advance.