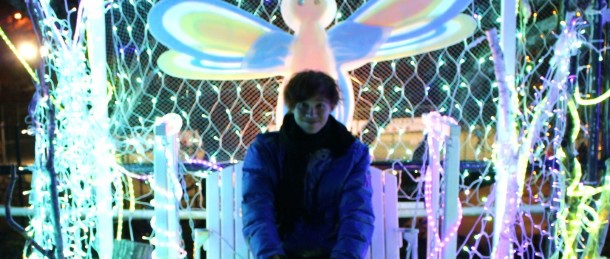 Gotemba Kogen Toki no Sumika is a leisure resort with many facilities of different nature. There are hotels, restaurants, sports facilities, shops, and various miscellaneous attractions here. I shall introduce each part of the illuminations. They were the "Tunnel of Light", the "Country of Light", the laser fountain show "Light of Versailles", and the "Water Paradise" goldfish aquarium.
The very first illumination upon entering the main gate would be this illumination draped over a 120 years old fir tree.
Moving on, you would see the 450 meters long Tunnel of Light. It had a theme of "flower carnival". As one would expect from the theme, there were plenty of illuminations of flowers and flower-related things around. Some highlights were a car, a hot-air balloon, beer mugs, the smile moon, the Fuji lantern, and a rabbit driving flower carts.
The hot-air balloon and the car were photo spots.
This car… had no trunk.
Sure would be nice to have a lady standing beside me to complete the picture.
Upon exiting the tunnel, I emerged in the "Country of Light". This was an outdoor area with even more illuminations, provided by various organisations. As there were many participants, it took quite a while to look at all of them.
On the left was an illumination of the Nirayama Reverbertory Furnace and on the right was one of Mt. Fuji.
And even here there was a photo spot. I looked like a model, right?
And then it was time for the "Light of Versailles", a show that utilised laser and water to achieve beautiful effects. They boasted a 70 meters high fountain. This show was absolutely stunning and very much worth the time and ticket price.
Do take note that you would get quite wet when the fountain sprayed above a certain height. That's where the umbrella handed out at the entrance came in useful.
And for the grand finale, the 70 meters fountain with rainbow lights.
After the show, I checked out the area outside the show area. The left photo was of the "Bell of Love". The right photo was of the "Walkway of Light" and "Ocean Twinkle", which were illuminations on the roofs of the slow house villa. The villa was one of the several accomodations available in this resort.
I was quite curious what the couple was doing with that gorilla under the bell. It was a rather surreal image to say the least. Why was there even a gorilla there in the first place?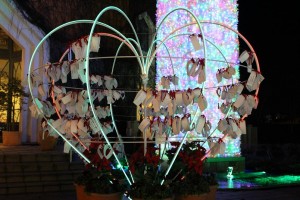 Speaking of couples, there was this "Heart Frame of Fate" outside the tunnel. Lovers could purchase a heart-shaped paper to write on and hang on the frame. A pretty romantic thing to do.
The very last attraction I visited was the "Water Paradise" goldfish aquarium, which was actually half an art museum. It showcased Japanese-style artwork inside fish tanks with different breeds of goldfish. A rather unique idea.
A Japanese-style art and an ukiyo-e.
This aquarium was a real eye-opener for someone who didn't know much about goldfish. There were so many breeds of goldfish here I had not seen before, I could even say most of the breeds here were new to me. There were goldfish with large growths on their heads, goldfish with bulgy eyes, and some gigantic breeds of goldfish even.
This was the biggest goldfish I have ever seen. The Jumbo Oranda Shishigashira was longer than 35 cm, and occupied the entire fish tank by himself. Truly the king of this aquarium.
Upon closer inspection, it had a painful looking wound on the side of his head. I really hope it recovers soon.
That was all for the report. A rather wonderful place with plenty of things to do. The illuminations make it very ideal for a date spot. The goldfish aquarium makes it great for bring children to. One of the better places I have visited in Japan for sure. Do take note that the winter illumination will end on March 21, so catch it while it lasts!
By Desheng.
Information
Name
Gotemba Kogen Toki no Sumika
Location
719 Kōyama, Gotenba-shi, Shizuoka-ken 412-0033, Japan
Contact
0550-87-3700
Opening period and hours
Period : 30/10/2015 (Friday) ~ 21/3/2016 (Monday)

Illumination hours : 17:00~21:30 *might change depending on the season


Price
Light of Versailles:
Adult (above middle school) : 1000 yen
Children (free for children below 5 years old) : 200 yen

Water Paradise :
Adult (above middle school) : 1000 yen
Elementary school students : 300 yen


Access
There are free shuttle bus services from JR Central Mishima, Gotemba, and Susono stations. Please refer to the bus schedule at http://www.tokinosumika.com/access/bus.php
Homepage
http://www.tokinosumika.com/sp/illuminations2015/
*Please check for the latest information before visiting.
* This article was written by a trainee from overseas. Please note that there might be spelling and grammar mistakes.