Monkeys Viewing at Hagachizakien
Hagachizakien is the largest wild monkey habitat in east Japan. As a wonderland for wild monkey, here lives more than 300 wild monkeys. The park first began taking care of the wild monkeys in 1953 by a man named Yohei Hida who lived at Ihama after four years of trial and error. Although now there are dedicate staffs who take care of daily life of monkeys, these monkeys mainly live at the mountainous area, and feed by themselves.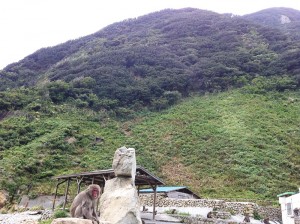 The road towards the park was zigzag and very narrow, had many curves of 180 degrees, it was hard to sit still in the car. We encountered several monkeys on the mountain road before reaching the park area, so we slowed the speed to have a look. These monkeys were not afraid of men, leisurely walk or sit on the road, expressing funny and cute face toward our direction. Maybe it is not the monkey but ourselves are the animals for viewing. While looking at the blunt face of the monkeys, we arrived at the monkey kingdom finally. All the weariness from the journey were swept away the moment we saw the monkeys.


The gate area of the park looked quite and deserted. A friend told me that it was crowded during the summer vacation, however I was pleased that fewer tourists means I can have a more fun time playing with monkeys. The admission ticket cost 700 yen, we had to ride a car to enter the park. The staff is a very polite man, say thank you several time to us.


There are few infrastructures for monkey including swings, pools and log houses. There was a small shop where you can buy monkey foods to feed the monkeys outside. These foods were sweet potatoes and peanuts, etc. which were monkeys' favorite food. Sure different monkeys have different favorite food, a monkey was disliked the sweet potatoes I offered to it. Larger monkeys kept bullying at smaller monkeys, preventing them from getting foods.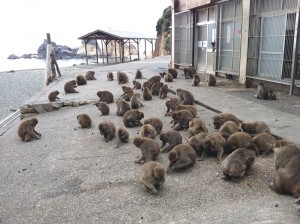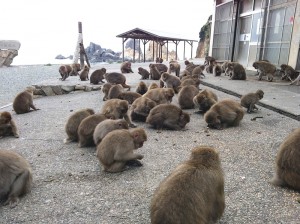 Like human, monkeys were also greedy, some will hold a hand look for next foods while chewing foods in mouth. Just like human hand, the hands of monkey also have five fingers and felt warm. I tried to shake hands with them, but they always grab the foods from my hand very quickly. Mankind was evolved from ape, there are may similarities between human and monkey, but I think the largest difference is that human can shake hands with each other while monkey can only use their hands to grab foods.


There are monkey rules in the monkey society, monkeys who disobeys will be purged from the group. Like human society, monkey herd are severely disciplined by seniority rules. Before coming to this place, I read some how-tos arguing that the older and larger monkeys should be feed first. I was skeptical about it at first, but after feeding monkeys at Hagachizakien, I thought it was ture. While the monkeys with larger trunks were eating, smaller monkeys afraid to stay close to them. There was a monkey king in the group. The position of king usually switches every several years, but some maintained at the position for as long as a dozen years. There is a funny rumors saying that every time the king of monkey in Hagachizakien changes, Japanese prime minister also changes accordingly. Although this is a joke, it tell us that every monkey in the group has its own position and relationship with others. Maybe monkeys are also worried and cared about higher position in the group. So funny! The current king of the group is a monkey by the name of Shinjiro of Izu. Why don't you come here to meet this king?


There were many baby monkeys in the herd, they grabbed tightly their mother's body as though bonded by adhesive. The mothers hug or carry their babies on their back wherever they go with great fondness. The bond between mother and child are so pathetic. We Chinese and Japanese may learn some from the monkey. How long you haven't give your mother a hug?


I noticed there was a old monkey sitting on a rock, face toward the sea, looked very lonely. Disliked to fight other monkeys over foods, just sit still toward the sea. What was he thinking about?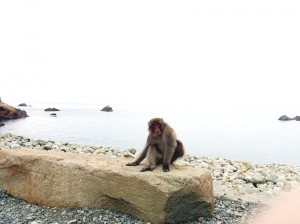 After eating and drinking a lot, monkeys gathered together, ticking and grooming for each other.


I think monkey park of Hagachizakien was a microcosm of human society. We may get a lot of hints from viewing the monkeys. Hope you can find something special to you when coming to the park.
Information
Name
Hagachizakien
Address
2622-1, Ihama, Minami-izu-cho, Kamo-gun, Shizuoka
Closed
Open everyday throughout the year
Business hours

8:30 a.m. to 4:50 p.m (Mar. 16th to Oct. 15)
8:30 a.m. to 4:30 p.m (Oct. 16 to Mar. 15)

Admission ticket
 700 yen for adult
350 yen for child (age 4 to 12)
Note: 630 yen for group more than 20 people
Getting there
From Numazu IC of Tomei Expressway, drive from Shuzenji to Matsuzaki for 2 hours.
Parking lot
300 free spaces
Toilet
Available
Contact
Free
Website
http://www.izunet.jp/asobu/warking-map/si-008.htmhttp://www4.tokai.or.jp/hagachizakien/
* Please refer to the latest info before visiting place.