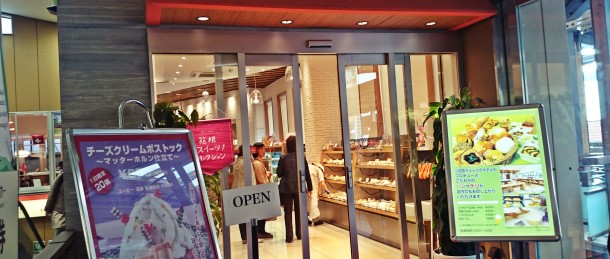 After left the Hakone Open-Air Museum, I took a train of Hakone-tozan Railway hope can look the beautiful green landscape through the windows of the train, but I was too tired and fell asleep quickly. I felt regretted having missed the scenery while riding on the train. After arrived at Hakone-yumoto Station, I took a look at the guide map and find a cafe from it.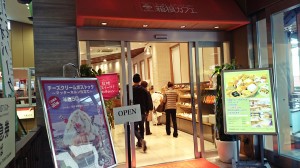 The cafe was located in the building of Hakone-yumoto Station, can be reached by turning to left after leaving the ticket gate, it is actually a famous one among Hakone's many spots. The cafe is small inside but often packed with many customers, it is hard to find a seat. There were separated seats as well as bar counter type seats in the cafe. A mini train model of Hakone-tozan Railway was set on the bar. The shop offers Hakone pudding with various national flags stuck on it. The warm yellow color tone made feel comfortable.


The shop offers many delicately made breads and pastries using only fine ingredients. There were not so many drinks to choose from, but the taste was just so rich and wonderful. One the right side of the ticket gate, there is a shop sells Hakone-maki (roll cake), offers many flavors depend on various season and event.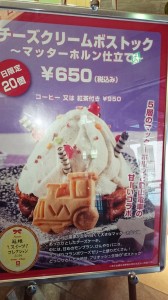 Because I thought drinking coffee could take away my sleep at night. So I ordered a glass of orange juice, and a small chestnut bread, the price is reasonable for such a delicious bread, there were a lot of large chestnuts in the bread. It taste modestly sweet, the chestnuts and the tender dough of the bread is just wonderful. I chose a seat at the bar which had a clear view of the constantly cycling train model. Through the glass in front of the bar, I watched people come and go at the station. I felt a sudden superiority because everybody was so busy except me sitting here to enjoy my drink. I was comforted by the thoughts, I was busy as these people several minutes ago, but now sitting in this peaceful and tranquil cafe made me feel great.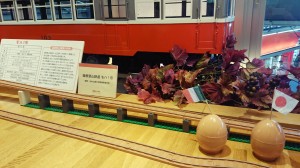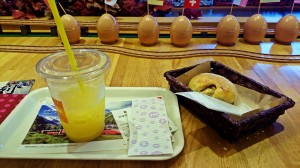 There is many cafeterias like this on in Japan. Many Japanese drama also features these small cafeterias and restaurants such as Longly Gourmet, Osen, Shinya Shokudo and Shokudo Katatsumuri, etc., all tells stories about people was encouraged and inspired by small dishes made by the owners. Just like I felt healed by this chestnut bread today.
Information
Name
Hakone Cafe
Address
Inside the Hakone-yumoto Station, 707, Yumoto, Hakone-machi, Ashigarashimo-gun, Kanagawa
Closed
Open everyday throughout the year
Business hours
Weekdays 10:00-18:00
Weekend and holidays 9:00-18:00
Fee
Getting there
Ticket gate of Hakone-yumoto Station
Parking lot
Free
Toilet
Available
Contact
0460-85-8617
Website
http://www.odakyu-hotel.co.jp/hatsuhana/hakone-cafe/#box_04
* Please refer to the latest info before visiting place.