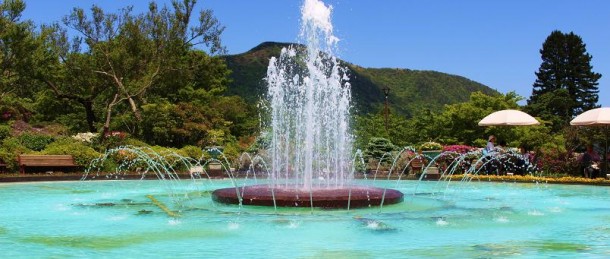 Hakone Gora Park is a French-style garden located a short walk away from Gora station. Being French-style, it has symmetrically-placed garden ornaments. However instead of being built on a large flat land, it is built on a steep slope. The Park features the Hakone Crafthouse which offers six hands-on workshops, a rose garden, a tea garden, and several greenhouses.
This fountain is perhaps the face of Hakone Gora Park. One could enjoy soft-cream from the nearby "Isshokudo charo"restaurant while sitting on the benches around the fountain, and enjoy the scenery of surrounding mountains.
The two pictures show items made in the dried flower arrangement and glassblowing workshops respectively. Other workshops available here are : pottery (handbuilding or wheel), sandblasting, style beads, and lampwork glass beads. Do take note that for some workshops finished items cannot be collected within the day. They could mail it to you though; glassblowing items take 3-4 days, and pottery items take 45-60 days.
The park has a wide array of flowers that bloom at different times of the year. Roses bloom in late May, so I was too early for it. I did manage to catch Japanese azalea, Japanese hydrangea, Japanese wisteria, bougainvillea, and peony.
There is a huge Himalayan cedar a flight of stairs above the fountain that towers over every other tree in the garden. Quite a sight to behold.
You can also have a cup of tea at the "Haku-undo Tea Garden", located within a Japanese-style garden complex.
I had a really relaxing time here. There were many benches in the park which encourages visitors to sit down and appreciate the scenery. Good variety of flowers and activities makes for a great park.
By Desheng.
Information
Name
Hakone Gora Park
Location
1300 Goura Hakone-machi Ashigara-simo-gun
Contact
0460-82-2825
Price
Adult : 550 yen
Elementary school and below : free
Opening hours
From 9:00 to 17:00 (last entry 16:30)
Access
From Hakone-Tozan line Gora station, walk for 5 minutes.
Homepage
http://www.hakone-tozan.co.jp/gorapark/
*Please check for the latest information before visiting.
* This article was written by a trainee from overseas. Please note that there might be spelling and grammar mistakes.