Hakone Open Air Museum is one of the most famous tourist attraction in Hakone. It is Japan's first open-air museum opened in 1969, and founded by the Japanese media conglomerate Fujisankei Communications Group. The museum features sculptures of many famous artists, in particular Pablo Picasso and Henry Moore; with Picasso having a museum dedicated to displaying his works.
I had a great first impression of the place. The weather was great and the sky was totally clear. As you can see from the photo, the open air museum has a beautiful backdrop of the vast blue sky and the endless Hakone mountains.
I know little about art, and this was one of my first few visits to an art museum. I shall not flaunt my ignorance here. Instead, here were photos of the works that I found fascinating.
The charm of an open-air museum, was that the surroundings change with the season and that could affect one's impression of the works displayed. As it was winter, the trees were leafless and lifeless. In spring and summer, the trees would be lush green. In fall, the trees would be a mixture of green, red, and yellow. This dynamicity gave the museum a great revisit value, I believe. One's mood could change the way one perceives art after all.
One of the many rest stops here were these two sunny side up benches.
Here was something I liked in particular. It was a very beautiful poem. Those who could understand Japanese, do give it a read!
This poem was located on the first floor of the "幸せを呼ぶシンフォニーの塔", meaning "The Tower of Happiness-calling Symphony". Just its name alone was wonderful enough already.
The walls of the tower were stained glass. There were many objects, people, animals hidden in the stained glass and it was rather fun trying to spot them. Here's a phoenix and a fan-holding person above it.
At the top of the tower, you could have a panoramic view of the entire museum as well as the surrounding mountains. Now this was what an open-air museum was all about.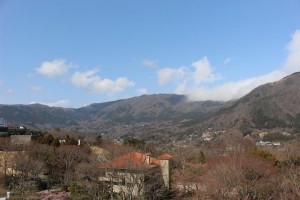 Here's a view of the tower when descending. There were intermittent platforms to step onto from the stairs for stained glass observation purposes.
There was a cafe and a foot bath a short distance from the tower. One floor above the cafe was an exhibition of Japanese landscape art. Photography wasn't allowed here, unfortunately. Various kinds of artwork by famous artists were displayed here, with many of them of Mt. Fuji.
To many, I suppose the greatest highlight of the whole place would be the Picasso museum.
Photography wasn't allowed in the Picasso museum as well, so words would have to suffice here. The museum narrated the various phases of Picasso's life through his works. Among the works displayed, there were many different types of art; Paintings, sculptures, ceramic art, and plastic art. It was very fascinating for an art museum novice like me to be able to see so many different kinds of art all made by one person.
On the way out, there was this Curved Space Diamond Structure. It was a playground meant for kids, but it was art nevertheless.
All in all, this was a great visit. There was just so much to see here. I spent about three and half hours here, which was pretty long for a museum. The Picasso museum was a one-stop Picasso 101 learning centre, and well-catered to casual visitors too. I was entranced by some of his works despite having next to no interest in the arts. This was one of the most visited place in Hakone for good reason. Absolutely don't leave a visit to Hakone without dropping by here.
By Desheng.
Information
| Name | Hakone Open Air Museum |
| --- | --- |
| Location | 1121 Ninotaira, Hakone-machi, Ashigarashimo-gun, Kanagawa-ken 250-0407 |
| Contact | 0460-82-1161 |
| Opening hours | 9:00 – 17:00, 365 days/year   * Last admission is 30 minutes before closing. |
| Price | |
| Homepage | http://www.hakone-oam.or.jp/ |
*Please check for the latest information before visiting.
* This article was written by a trainee from overseas. Please note that there might be spelling and grammar mistakes.