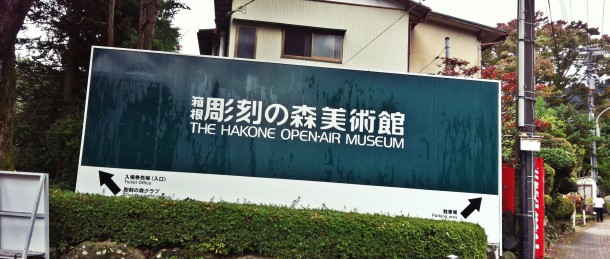 It is rainy all the day outside, I decide to have a trip of the museum. Departure from Kozu at early morning, I went to Hakone-Yumoto Station via Odawara first, then I took a train of the legendary Hakone-tozan Densha Line. I imaged myself as a Totoro walking slowly in the forest.


My destination today is Hakone's famous museum, The Hakone Open-Air Museum which exhibit many great sculptures. However I am not a expert on sculpture, so I will have my way to enjoy the trip. The museum looks like a large park in a lushly green environment with many sculptures exhibited in it. The sculptures with various themes were made of materials of iron, plastic and marble, etc. In addition to the outdoor sculptures, there were many artworks displayed in the main building, newly constructed building, the art building and Picasso Pavilion.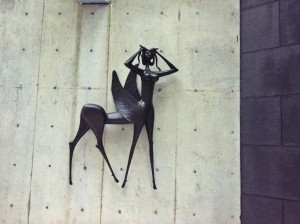 The heavy clouds in the sky were blew away by the wind occasionally, created cracks for the sun to shine through, there were darker and brighter zones over the landscape of the valley, sometimes with drizzle. I was not bothered by the rainy weather at all. I saw a old woman with a cane standing in the wind and rain gazed into the distance quietly. There were children laughing and walking in the park. I saw many families with elderly and young children too.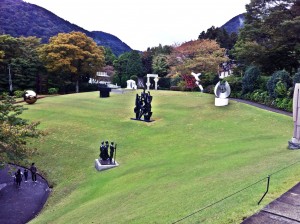 Many equipments in the park were designed for children, such as Curved Space-Diamond Structure, Woods of Net, etc. Many children were gathering around the equipments, you can hear the laughter even before reaching the ground. Curved Space-Diamond Structure has a funny honeycomb-like design, constructed using tempered glass, children can crawl through many bubbles in it. The whole object was transparent, the inner side can be viewed clearly from the outside. Unfortunately, the object was closed due to the weather on my visit. There was no children in in, the whole glass object stood quietly in the rain, looked a bit cryptic.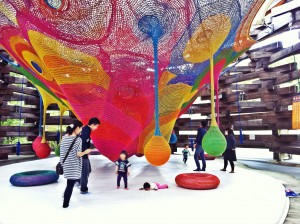 I was most impressed by an object called Symphonic Sculpture, it was a gray object looked like a small tower with simple and modest design. Climbing through the narrow stairway, the more I climbed, the more stunning design came into my view. The inner side of the tower was ornamented with colorful glasses in a spiral way which light up at night. At the topmost of the tower, there was a small observing deck for overlooking the whole scenery of the museum. I met a western gentleman who can speak Japanese fluently, he has blue eye and golden hair, came here with his Japanese wife and two cutest children who are half western half Japanese. A man with western face and Japanese style behavior give me deep culture mix feelings.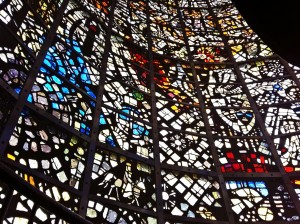 I met a elderly Japanese couple at a sculpture called La Pleureuse. We shook hands through the hole in the sculpture. There was a heart-shaped hole in the sculpture, it is said that shake hands through the hole assures infinite friendship. I didn't know Japanese man can be so romantic! How cute is this couple.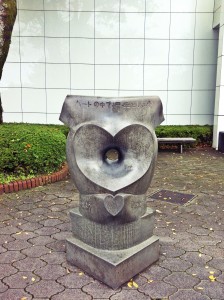 I had a sweet memory through the trip.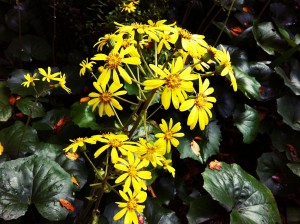 Information
Name
The Hakone Open-Air Museum
Address
1121, Ninohira, Hakone-machi, Ashigarasimo-gun, Kanagawa
Closed
Open everyday throughout the year
Business hours
9:00 a.m. to 5:00 p.m.
Fee
1600 yen for adult, 1200 yen for collage and high school student, 800 yen for elementary and middle school student.
Getting there
[By train] Odawara Station -> Hakone-yumoto Station -> get off at Chokoku-no-mori Station of Hakone-tozan Railway, walk for another 2 minutes.
[By bus] Odawara Station -> Hakone-yumoto Station -> get off at Ninohira-iriguchi bus stop of Hakone-tozan Bus or Izu-Hakone Bus, walk for another 5 minutes.
Get off at Chokoku-no-mori bus stop of Hakone-tozan touring bus
By car:
Atsugi IC of Tomei Expressway -> Odawara Atsugi Road -> Hakone Yumoto -> enter the prefectural road no.723 from Gora entrance of Route 1.
Gotemba IC of Tomei Expressway -> Route 138 -> Miyanoshita -> enter the prefectural road no. 723 from Gora entrance of Route 1.
Parking lot
Available
Toilet
Available
Contact
Tel. 0460-82-1161
Website
http://www.hakone-oam.or.jp/
* Please refer to the latest info before visiting place.