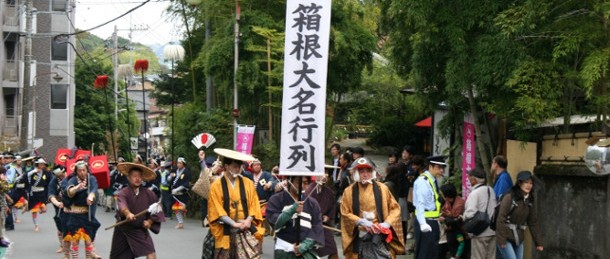 The Hakone Daimyo Procession have become a traditional event of Autumn in Hakone, this year it will be held on Nov. 3rd. at Hakone-Yumoto Onsen as always.
A total of about 450 participants will be taking part in the procession. Among them, 110 Geishas from Hakone Geisha Association will perform flowery dances, and rickshaws and symphonic bands will also appear. Together featuring a spectacular parade.
Hakone Daimyo Procession is a traditional celebration, this is the 63th anniversary of the event. It began in 1935. It is said the Onsen Expo held at Hakone-Yumoto that year became the origin for the event. The event was interrupted during the pacific war and was reorganized after the war. It had become an annual event since then.
The parade will last for 4 and half hours, start at Yumoto Elementary School and end at Yumoto Fujiya Hotel, march around famous spots including Hakone Kyukaido (Former Hakone Road)and Onsen Street of Yumoto. Participants taking part in the procession wear traditional costumes of Edo era, shouting "Shitani, Shitani!"
Information
Event name
Hakone Daimyo Procession 2016
Place
Yumoto, Tonosawa and Hatajyuku of Hakone
Address
Yumoto, Hakone-cho, Ashigarashimo-gun, Kanagawa
Date and Time
Nov. 3rd (Thu.), 2016
at Yumoto Elementary School, start from 9:45 am.
Fees
–
Contact
Hakone Yumoto Tourism Association
Tel. 0460-85-7751
Fax. 0460-85-7753
Getting there
Approx. 85 minutes by Odakyu-Romance-Car Train from Shinjuku.
Website:
http://www.hakoneyumoto.com/event/8
* Please make sure the info you see is the latest info before visiting the place.