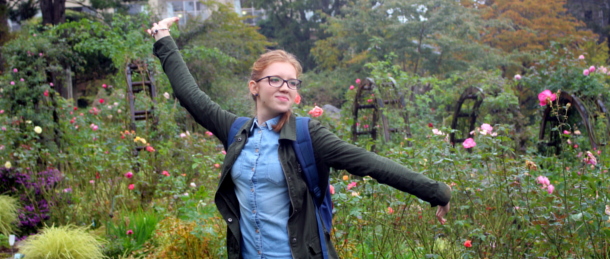 Hakone Gora Park was opened in 1914 as a one of the first gardens in European style in Japan. This French garden is surrounded by high hills and it's one of the most adorable tourist spot in Hakone. One of the advantages is, that in the area of park, there is Hakone Craft House, where you can create by yourself many types of handicraft.
Generally, blooming flowers are associated with a spring. Although, in Gora Park there are many types of flowers and when some flowers fade, the other ones start to bloom. When I came there, there was a season of blooming roses. If you look down from the bower located in the highest place of park, you can see beautiful view of tall colourful roses. Except of the most famous red roses, there were pink, yellow and blue roses as well. In a center of the park, there is the most recognizable spot of Gora Park, that you can see in many catalogues as a symbol of the object. Actually, the fountain looks just as in the pictures and it's the most impressive element of the park. What's more, in late October, besides the roses, you can see there, first autumn red leaves of amazing Japanese maples.
When I had walked around the whole Park, I came to the Craft House. In the Craft House, you can choose, which handicraft you want to enjoy from many categories. In spite of blow glass, you can deal with pottery, sandblast, lamp work beads, flower arrangement and making jewellery. I decided to make my own bracelet, that is probably one of the easiest things to create there. When I picked the lace, I started to create braclet by combining favourite beads chosen from very big collection of elements in various colors and shapes. When I didn't know what to do next, I could count on advises of professional staff anytime I needed. I think, that theese things created there, can be great souvenir from your trip to Hakone. My braclet will remind my about my great internship in Japan for long time.
Summary
When I visited Gora Park, raining hard for all day, then I tried to walk it around as fast as I could. However, I think that it's really great place for relax and rest, where you can admire beautiful landscapes in surroundings of flowers. Regardless of season, if you will be in Hakone, you should definietly visit Gora Park and deal with creating handicraft in the Craft House!
Weronika Golubska
Information
Name
Hakone Gora Park
Location
Kanagawa Prefecture, Ashigarashimo District, Hakone Machi, Gora 1300
Contact
0460-82-2825
Price
Adults 550 yen
Primary school students and children free
Opening hours
9:00-17:00 
Access
From Gora Station 5 minutes by walk
;Homepage
http://www.hakone-tozan.co.jp/gorapark/
*Please check for the latest information before visiting.

* This article was written by a trainee from overseas. Please note that there might be spelling and grammar mistakes.