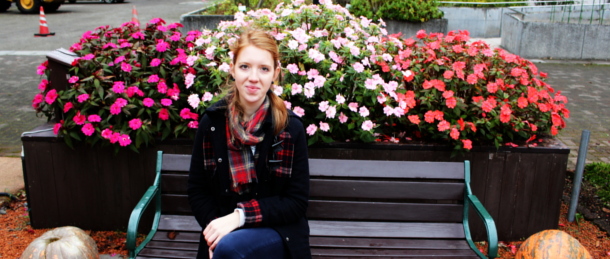 Yamanakako Flower Park is located near the Lake Yamanaka- one of the Mt. Fuji Five Lakes. You can enjoy many different kinds of seasonal vivid flowers in the 300,000 square meters of park. Park is divided into three different sections. Except of admission free outdoor area, there are two more zones for pay. However, tickets are not expansive and I reccommend you to visit all the zones.
Generally speaking, everyone associates blooming flowers with a spring and I was sure that there is no point to visit any flower park in autumn. Although, Yamanakako Flower Park is attractive for tourists almost every season. At first, I came to the greenhouse of rare tropical plants. I was really astonished at many kinds of colorful flower and plants, that I have never seen before. What attracted my attention the most was a plant with some odd fruits. Color of these fruits seemed mandarin oranges. I don't know if it's edible, but they looked so delicious… Then, I visited a room of orchids, my favourite potted plants. I tried to grow abundant orchids many times at my home in Poland but I haven't managed to do it not once yet. Then, I was really jaelous of seeing as many beautiful orchids in the same place. I would stay there for long time and just admire them.
Outdoor infrastructure of park is really developed. You can walk around the specially prepared roads or even rent a bike. During a walk I saw three wooden water wheels and many other elements, which architecture was perfectly adjusted to the lanscape. Because of upcoming halloween, there were many thematic pumpkin decorations around there. The most amazing were in the glasshouse, where mainly people come to buy plants to thair own houses and gardens. Installations made from grass and flowers presented symbols of halloween and the region. I noticed there pupkin figure, Mt. Fuji figure and so on. Then, I came to the section of water attractions. I got to the big waterfall in a semicircle shape. It was really impressive view, when I stood in the center of this and just watched falling water around me.
Summary
Against the expectations, Yamanakako Flower Park was really worth visiting even in autumn. When you want to be sure of seeing spectacular flowers there, just check advertisements on the website. You will find there information about currently blooming flowers and calendar of blooming for all year. However, autumn is really great season to visit that place, because except of the flowers, you can admire colorful leaves of trees around there!
Weronika Golubska
Information
Name
Yamanakako Flower Park
Location
401-0501 Minamitsuru-gun Yamanakako-mura Yamanaka 1650
Contact
0555-62-5587
Price
Adults:500 yen
Primary school students:200 yen
Children: free
Opening hours
16 April-15 October(8:30-17:30)
16 October- 15 April(9:00-16:30)
Access
By train and bus: 30 minutes by a Fujikko bus (Lake Yamanakako sightseeing bus) from Fujisan Station, Fujikyuko Line. Get off at the Hananomiyako-koen bus stop.
;Homepage
http://www.hananomiyakokouen.jp/
*Please check for the latest information before visiting.
* This article was written by a trainee from overseas. Please note that there might be spelling and grammar mistakes.