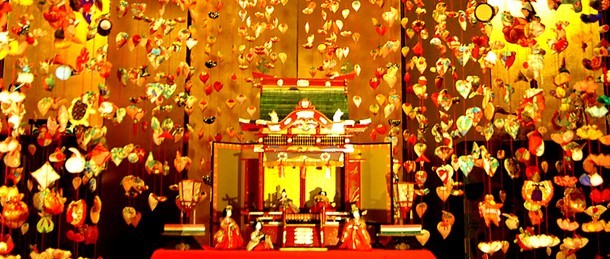 Hina-No-Tsurushi-Kazari Festival
Hina-No-Tsurushi-Kazari is a hanging decoration come down from the past generations in Inadori Onsen. It is a kind of decoration used at both side of tiered stand of Momo-no-Sekku Festival. It is a symbol of traditions past through generations.

Hina-No-Tsurushi-Kazari was first originated in Edo period. Ohinasama (girl's doll) was a rare item for the general household to buy due to the high price, in order to celebrate the Girl's Festival without expensive Ohinasama, parents handmade Hina-no-Tsurushi-Kazari, decorate it to celebrate the festival for their loved children and grandchildren.

Every parts of the decoration were all meticulously handmade by parents as a symbol for the health of children.

Information
Event name
Hina-No-Tsurushi-Kazari Festival
Place
Hina-No-Tsurushi-Kazari Exhibition Area at Inadori Onsen Ryokan Association (Inadori Onsen)
Address
1729 Inadori, Higashi-izu-cho, Gamo-gun, Shizuoka
Period
9:00 am to 16:30 pm on Jan 20th to March 31th of 2015
Participation fees
Admission fee
[Permanent exhibition area]
Bunka Kouen Hina-no-Kan: 300 yen
Mukai-an: 200yen
[Sponsor]
Futatsubori: free
Naburatoto: 100 yen
Contact
Tel. 0557-95-2901
Getting there
15 minutes walk from Izu-Inadori Station of Izukyuko Line.
Website
http://www.inatorionsen.or.jp/hina_sp/index.html
* Please make sure the info you see is the latest in advance.