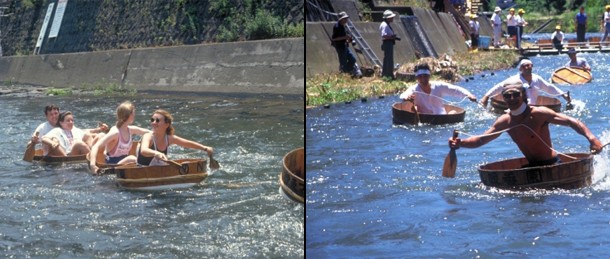 Ito Matsukawa Washtub Boat Race
An unique traditional event from Ito! Tarai-nori Kyoso or Washtub Boat Race is a competition where the participants race on Matsukawa river by paddling large rice-scoop while riding on a wooden washtubs. The race is hold in one of the top eight great view point in Ito, Matsukawa and it is 400 meter-long paddle from Ideyu-bashi (Ideyu bridge) to Fuji-no-hiroba (Matsukawa-fuji-square).
There will be several different kinds of race take place, including kids race, international race for foreigners, traveler race (doing the race while wearing yukata) and team race (4 washtubs connected together). Sometimes there will be people who wear interesting costume. Even you are not taking part in the event, it will be very exciting to watch it.
Information
* Please make sure to check the updated information before your visit.