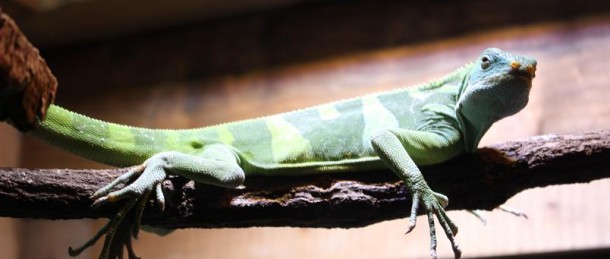 iZoo is a reptile and amphibian zoo in Kawazu, Izu Peninsula. The zoo strongly emphasises interaction between visitors and the animals. It features a unique theme song, sang by the famous composer/singer Hyadain, which is played in every part of the zoo.
To start with, the modest-looking entrance featured three giant tortoises statues and a ticket window.
The first lizard to greet visitors was this big guy. If I remember correctly this was the biggest lizard in the entire zoo.
Next was this Fiji banded iguana. This was the most prominently lizard featured in the entire zoo, with the most number of souvenir products related to it. It had beautiful green skin and pattern.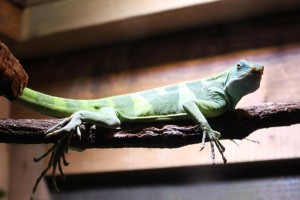 The Mexican beaded lizard was one of the few species of venomous beaded lizards in existence. As its name suggested, it had countless tiny beads on its skin.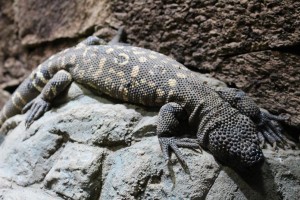 Various lizards. There were too many lizards in this zoo so this was just a fraction of them.
Another very prominently featured lizard here was the earless monitor lizard. It was hiding when I was there, so I didn't manage to take a photo of it, unfortunately. This lizard was an extremely rare species, and apparently iZoo successfully bred the first earless monitor lizard in captivity in the whole world.
A chameleon freely roaming the premises. The zoo's floor was almost entirely soil, to simulate the natural habitats of the free-roaming reptiles here. There apparently were other free-roaming folks around, but this guy was the only one I saw.
Moving on, there were plenty of snakes too.
Two snakes intertwined. I wonder if this meant anything at all.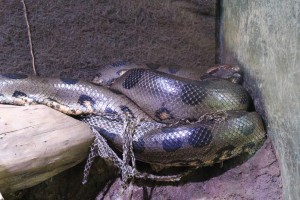 Snake shedding its skin. iZoo sold these shed skin too.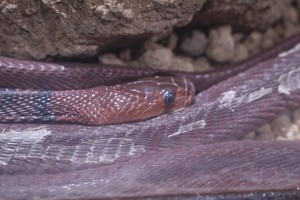 This red spitting cobra looked cute, but it was a venomous snake that had caused human fatalities in the past. There were several other venomous snakes on display too. Their display cases were locked up tightly to prevent potential accidents.
In the snake room there was this educational corner on how to handle snakes and snake bites. Various tools and antidotes were displayed in a glass case.
Next, crocodiles.
Tortoises.
Lastly, there was a bugs corner. There were tarantulas, millipedes, a cross-section of a piece of wood showing a colony of ants, and a tower of cockroaches. The tower of cockroach was really not for the faint-hearted, so I shall not upload its photo here. Instead, here's a tarantula.
Even though iZoo preached about interaction so much, there was hardly any interaction at all. There were three animals to touch, with a staff standing besides and supervising the interactions. There were also some tortoises to touch… and that was all I saw. Perhaps I missed something… many things.
The souvenir shop was huge and sold a great variety of reptile goods. For some reason there were toys of dragons too. I suppose they were considered reptiles too.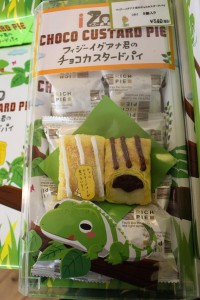 This was iZoo's very own choco custard pie. The Fiji banded iguana on the cover was drawn cutely. Very Japanese indeed.
Reptiles lover will love this place, no doubt. Lizards were not usually perceived to be cute, but iZoo puts in much effort to get visitors to appreciate them. There were some really rare species here as well, particularly the earless monitor lizard. All in all, this was a zoo that could provide 3-4 hours of animal watching with the sheer number of animals available.
By Desheng.
Information
Name
iZoo
Location
406-2 Hama, Kawazu-chō, Kamo-gun, Shizuoka-ken 413-0513 〒413-0513
Contact
0558-34-0003
Opening hours
9:00~17:00 (last entry at 16:30)
Open all year round
Price
Normal pricing :
Adult (middle school or above) : 1500 yen
Child (elementary school) : 800 yen
Child (6 and below) : free

Access
By train :
5 minutes by Taxi from Kawazu station.
Homepage
http://www.izoo.co.jp/
*Please check for the latest information before visiting.
* This article was written by a trainee from overseas. Please note that there might be spelling and grammar mistakes.