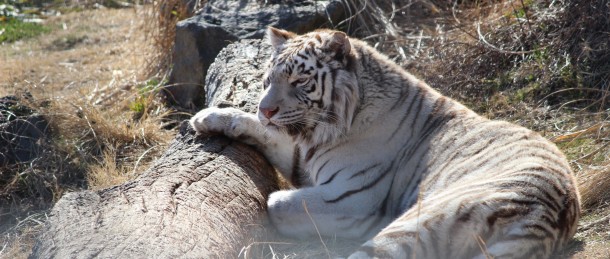 Izu Animal Kingdom was one of the four zoos you could find in the Izu Peninsula. It was perhaps most well-known for having white tigers. Some other highlights of the place would be its "Walking Safari" and "Dinosaur Forest".
The first area upon entering the zoo was the "animal zone". This was basically the "zoo" part of the zoo. There were also a "sports zone" and a "play zone". This report would focus on just the animal zone.
The Walking Safari zone actually covered most of the animal zone. There was an elevated walkway for people to stroll through and observe animals from.
There were giraffes, ostriches, mouflons, elands, zebras, blackbuck.
You could buy vegetables to feed the animals here by throwing them down. The giraffes and ostriches were the only animals here that you could feed directly due to their height. That was of course more satisfying than just throwing the vegetables down, as was apparent from all the visitors choosing to feed them over any other animals. Being tall came with a lot of perks.
If you observed closely, you would see that giraffes had very long tongues. Tongues that said "feed me, human".
After the first stretch of walking safari, there was a sheltered area which housed cheetahs and lions. There were also white tigers, but you would have to eat at the "Restaurant Animal Kingdom" to really get a good look at them.
Left : Cheetahs playing with each other.
Right : Lion eating a large piece of meat while staring at me viciously.
After this area, it was a U-turn back to the walking safari again. More of the same as earlier on.
Once out of the walking safari, it was the normal zoo area, with animals in enclosed habitats. For some reason, half the animals were sleeping when I was there.
Sleeping animals photo collection :
The "Petting Plaza" was my favourite part of the zoo. Here I was able to pet rabbits, maras, guinea pigs, and capybaras to my heart's content.
I could spend the entire day here alone, but I had to move on. The inner portion of the petting plaza had many more capybaras, and also domestic ducks for some reason. I was pretty sure the ducks were not meant to be petted. I tried petting one and got a pretty big reaction out of it.
It was rather interesting to watch the capybara family raid the ducks' resting place. The sleepy-looking capybaras just casually strolling in and eating the straw bed the ducks were sitting on and causing the indignified ducks to retaliate. That was real amusing.
Moving on, there was an African elephant, a brown bear, and an Aedean condor. All three were large animals which had entire enclosures to themselves.
This was an African bush elephant, the largest land animal on earth. There were some quizzes in front of the enclosure to test visitors on their knowledge.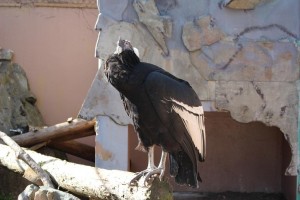 The Andean condor had one of the largest wingspans among all birds, and was the national symbol of several countries in South America. I saw it fly a little big, and indeed it had an enormous wingspan.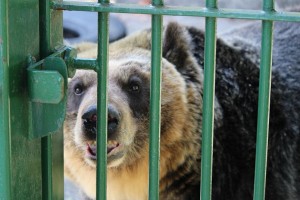 The brown bear seemed to prefer living in solitude. It was kept in an enclosure with thick metal bars, which made it hard to even see the bear.
As I mentioned earlier, it was hard to see the white tigers unless one chose to dine at the restaurant, which had a glass wall that offered a view to the white tiger's habitat. I managed to get a closeup shot of a white tiger with my camera zoomed to the maximum.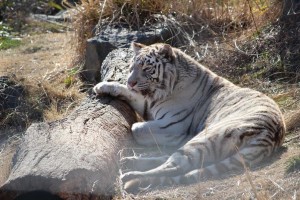 Still, it wasn't very satisfying to see through a camera. Better to cough up some money to eat at the restaurant.
After the animal zone, I rode the free road train to reach the play zone. I skipped the sports zone entirely.
The play zone had the "Dinosaur Forest", which was another big selling point of the Izu Animal Kingdom. This was a short one-way road which showcased plastic life-sized models of nine of the most dinosaurs.
The biggest and baddest dinosaur was of course the T-rex.
As I really loved dinosaurs as a boy, this place brought the inner child out of me. Even though these were plastic models, it was great to stand beside them and feel just how big they were. The information given about the dinosaurs were minimal, but was good enough for people who knew next to nothing about them. Take note that they were not of 1-1 scale.
Some final thoughts of the Izu Animal Kingdom. The zoo itself was quite small, with fewer types of animals than other zoos I had been to. It made up for that lack with the Petting Plaza and the Dinosaur Forest. Also, a good third of the animals were sleeping when I was there, even though it was daytime. I was totally fine with that, but I suppose there would be some who wouldn't like that at all. As with any other zoo, visit with that possibility in mind and you wouldn't be disappointed.
By Desheng.
Information
Name
Izu Animal Kingdom
Location
3344 Inatori, Higashiizu-chō, Kamo-gun, Shizuoka-ken 413-0411
Contact
0557-95-3535
Opening hours
April 1~September 30 – 9 am to 5 pm
October 1~March 31 – 9 am to 4 pm
Price
Normal pricing : Adult 2200 yen, child (above 4 years old) 1100 yen
Group pricing (for 15 or more people) : Adults 1500 yen, childr (above 4 years old) 700 yen
Seniors pricing (65 years old and above) : 2000 yen
Physically impaired people's pricing : Adults 1100 yen, child 600
*Please bring a proof of identity

Access
By train :
From JR Atami station, transfer to Izu kyuko line bound for Izukyu Shimoda station and alight at Izu Inatori station. From the station, take a bus bound for Izu Animal Kingdom and alight at the last stop (bus ride takes 10 minutes).
Homepage
http://www.izu-kamori.jp/izu-biopark/
*Please check for the latest information before visiting.
* This article was written by a trainee from overseas. Please note that there might be spelling and grammar mistakes.