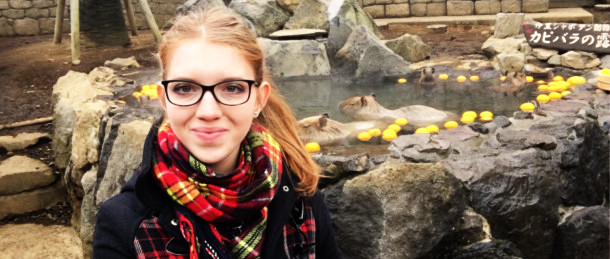 Izu Cactus Park is a kind of botanical and zoological garden. It is located besides mountains and strikingly shaped, grass covered Mount Omuro, an extinct volcano near central Ito on the Izu Peninsula. Over one thousand cactus varieties from around the world are exhibited in the park's greenhouses and you can see here approx. 120 types of animals.
At first, I came to the large cactus greenhouse, that was designed in the Mexican style. During watching the plants, I listened to the Mexican music and felt the exotic atmosphere of that place. There were many kinds of cactus depending on size, shape, color and so on. I haven't ever seen most of theese cactuses before. Near the exit of the greenhouse, you pass through cactus shop, where you can buy some of the plants, that you've just watched before, to your own garden. Except of cactuses, there were many small animals in this section. In general, animals, which live in zoo seem to be bored and they avoid people, but fennec fox, which I met there were very keen to keep contact with people and play with them.
The most recognizable symbol of Izu Cactus Park is capybara. It appears in the leaflets, in pictures on the internet and on the advertising posters. I think, that popularity of capybaras has increased in the recent years. The most unique feature of them is, that they look just like common-known guinea pig but in the big version. They are really charming and friendly towards people. When I came to see them half an hour later, to say good bye, I saw, that they take a bath in the especially prepared hot springs. They were totally immersed in hot water with oranges and they seemed to be very relaxed. I have no idea, why they bathed with oranges, but it looked really funny!
What distinguishes Izu Cactus Park from other animal parks is, that many animals walk around the garden freely and they aren't closed in cages. You can often meet on your way peacocks, ducks, small monkeys, flamingos and so on. Due to the fact, you can see animals' behavior in many situations and observe them from many points of view, not only from outside of cage. The most incredible were squirrel monkeys. They are used to be fed by people, then they can quickly jump from one to other person and surprise you in a one second. In fact, they aren't dangerous and too small to hurt you.
Moreover, during a visit in the Izu Cactus Park, you can see the animal show, which take place three times a day. The main role of performance is acting by a small monkey dressed in nappy. I was impressed by his intelligence. Monkey walked the slackline, jumped on a trampoline and danced exactly like the trainer wanted him to dance. Except of the monkey, in the show appeared also other animals, like a dog, a cat or a mouse.
Summary
Izu Izu Cactus Park is perfect attraction for families traveling with children and people who like observing animals. But I think, that nobody will be bored here. Except of small animals, there are many large as well, like kangaroos, ponies, tapirs, lamas and others. It's great place for spending all day in surrounding of unique animals and plants. Come and check it out!
Weronika Golubska
Information
Name
Izu Cactus Park
場所
413-0231 Shizuoka-ken Ito-shi Futo 1317, 13
Contact
0557-51-1111
Price
Adults 2300 yen
Primary school students 1100 yen
Childeren(over 4 years) 400 yen

 


Opening hours
9.00-17.00 00
Access
From Atami Station take the Ito line train and get off at 'Izu Kogen'
From Izu Kogen Station take the local bus bound for 'Izu Shaboten koen'
Homepage
http://izushaboten.com/
*Please check for the latest information before visiting.
* This article was written by a trainee from overseas. Please note that there might be spelling and grammar mistakes.