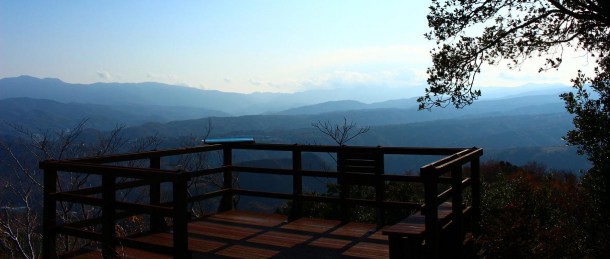 Hi again everyone!
Today I visited the Izunokuni Panorama Park. It's a park built on the summit of a mountain, and to me that was already enough reason to check it out.
Firstly, there was something I would like to mention. From Mishima train station onwards, an IC card such as Suica/Pasmo could no longer be used. To reach this park you would have no choice but to buy a ticket and show the staff. This made me realise just how much of a countryside Izu was.
When I reached Izunagaoka station, I quickly dropped by the tourist information center. Even though it is only my second week as a travel journalist, I had come to appreciate how important the tourist information center was. They could provide me with directions, bus timing schedule, and even a discount coupon for tourist attractions. Directions could be checked on the internet beforehand, but the bus timing schedule and discount coupons were almost exclusive to such places.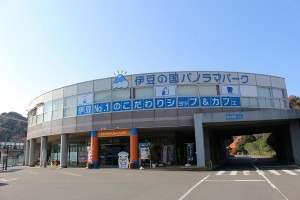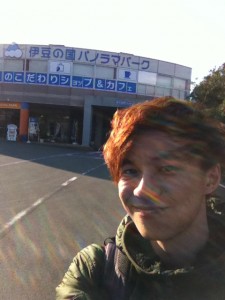 In order to reach the park, you had to take a cable car. On the ride you could have a magnificent view of Izunokuni city.
The moment I reached the summit of Mt. Katsuragi, I was greeted with this majestic sight.
From an altitude of 452 meters, there were nothing in the surrounding tens of kilometers that couldn't be seen. Sea, mountains, cities, you name it you see it. The two most note-worthy sights here were Mt. Fuji and Suruga Bay. The former was a good sixty kilometers away, which was longer than my country Singapore. Do take note that the weather would play a big part in how far you could see, so be sure to check the weather forecast in advance before you visit.
On the observation deck, there were benches and telescopes to enhance your viewing experience. There were also a variety of flowers around the observation deck. There was no other word but beautiful to describe this place.
Let me side-track a little. Unfortunately, I couldn't fully enjoy the place as I had a small fear of heights. It wasn't serious, but being at such a high place did increase my heart rate. Coupled with the strong and merciless wind that made me feel like I was going to be blown off the mountain any moment, I had trouble trying to stay calm. Still, that should not be an issue for most people.
For those who would like to slowly savour the moment, there were foot baths available. Warm and comfortable, they were.
In the park, you could see different flowers depending on the season. As I went in December, there were nothing but red leaves, and mostly fallen ones at that. From the broshure, I found out that every other month there would be a wide variety of flowers. Just my luck. That said, there were still plenty of flowers grown by the staff with much tender loving care.
The garden art crafted in the likeness of Mt. Fuji, "Hanafuji Flower Craft", was another attraction not to be missed.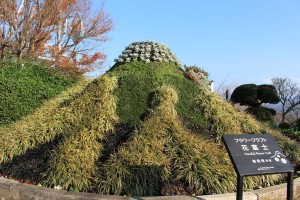 There were plenty of other attractions still. Let's start with the religious attractions, Hyakkutaijizouson and Katsuragi Shrine.
On the western parts of the park were the Saezuri Hill observation deck and the Bell of Happiness. Along the short hike there, were some stone stairs and a board walk.
As I emerged from the other end of board walk, there was a cross roads. The left path led to the observation deck and the right path led to the Bell.
The sight was so grand I was left totally speechless, and that was totally okay because no words were needed.
I had no idea if the couples who rang the Bell obtained happiness or not, but one thing I could say for sure was that the visit to the Panorama Park must have been a fond memory for them.
Lastly, there was a playground for children. If I were a kid I wouldn't play here even if you begged me. Too high… too scary.
Before I left, I bought this Fujisan bear at the souvenir shop. As I was a ameotoko (someone who made it rain when he went out), I had trouble taking photos of Mt. Fuji. Today the sky was amazingly clear, yet there was this annoying piece of cloud that refused to move away from Mt. Fuji's summit. Hopefully this bear would bring me good luck and make the weather clear and annoying clouds go away whenever I had to take photos of Mt. Fuji!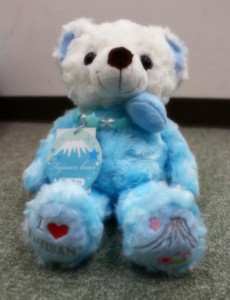 Last thoughts : The Panorama Park was truly wonderful. It's the kind of place I would visit even if it wasn't for the job. This place gets my personal stamp of approval.
By Desheng.
Information
Name
Izunokuni Panorama Park
Address
〒410-2211
Shizuoka prefecture, Izunokuni city, Nagaoka 260-1
Contact
055-948-1525
Access
Toukaido Shinkansen, from JR Toukaido line Mishima station, transfer to Izu-Hakone Tetsudou Sunzu line and alight at Izunagaoka station. Take a Izu-Hakone bus (Nagaoka Onsen loop), or the Izu Mito Sea Paradise bound bus, and alight at the Izunokuni City Hall bus stop. Walk for 1-2 minutes.
Take a direct bus from Shinjuku for 2 hours 15 minutes.
Homepage
http://www.panoramapark.co.jp/index.php
*Please check for the latest information before visiting.
* This article was written by a trainee from overseas. Please note that there might be spelling and grammar mistakes.