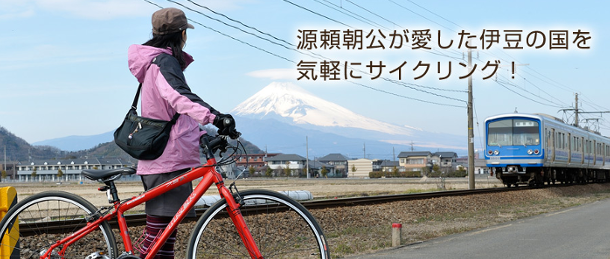 Enjoying bicycle trip at Izunokuni, a historical city that Minamoto no Yoritomo had spent his early life at here!
Izunokuni City is a city with mild climate, it was once a place that Yoritomo took up arms against his enemy. There are many tourist attractions here.
Now you can enjoy a leisurely cycling trip around many historical sites at this old city.
"Velo" means "bicycle" in German. You can enjoy Kano River basin as you like by riding a bicycle.
Come here and enjoy a pleasure cycling course in the river breeze.
Information
Event name
Izunokuni Rent-a-Cycle
Rental Station and address
Road Station Izu-no-heso
195-2 Takyo, Izunokuni City

Izu-Nagaoka Station
773-2, Nanjo, Izunokuni City

Izunokuni Tourism Association
255, Kona, Izunokuni City

Kuruya Narusawa (near Nirayama Reverberatory Furnace)
272-1, Naka, Izunokuni City

Time and rates
500yen for one day, one bicycle
Time: 10:00-16:00
How to make reservation
Reserve your bicycle via telephone, fax or web.

TEL 055-948-0304
FAX 055-948-5151
Web http://www.izunotabi.com/cycle/form/index.html

Website
http://www.izunotabi.com/cycle/index.html
* Please make sure the info you see is the latest info before visiting the place.