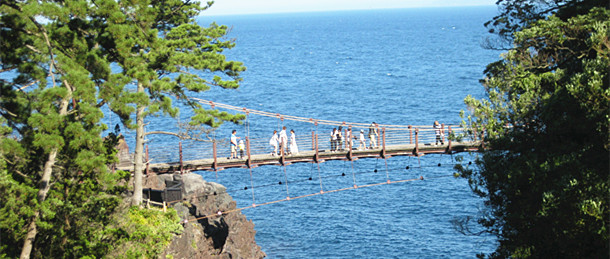 Jogasaki-kaigan Coast: Lighthouse and Suspension Bridge
I have seen Jogasaki-kaigan Coast from far away in Mount Omuro before. But I did not see there so clearly because it was clouded.
So I went to Jogasaki-kaigan by Izu Kyuko Line.
I got off the train at Jogasakikaigan Station and apparently you'll get to the shore in around 25 minutes as you follow signpost indication.
A row of cherry blossom trees is planted on the roadside on the way. If it is time, it will be surely beautiful.
I see the shore at last.
Jogasakikaigan is the magnificent lava rock shor. When Mount Omuro erupted 4,000 years ago the lava flew in the sea and after being suffered from the erosion approximately 9km sharpened coast.
Everytime seawater hits the rocks, waves puts up expensive sea spray.
There I see Kadowaki Lighthouse ahead.
The Kadowaki Lighthouse is 24.9 meters high and it has two observation decks on the level of 4 meters above the ground (outdoor) and 17 meters (indoor).
I climbed the spiral stairs and at last arrived at the indoor observation deck.
Scenery from the indeed is different.
I crossed the suspension bridge when I went out of the lighthouse. It's 48m long, 23m high.
It seems to be quite small if we see in this way.
When the number of passenger increases, I becomes more shaky. But you shouldn't be worrying such thing.
Seawater gets right under a foot.
It must be the superb view seeing from a slightly remote place.
There are a lot of tourists with dogs for some reason.
I showed courage and went to near cliff while thinking that it was dangerous.
After all shoreline is great!
This course of a walk with natural sceneries from Bora shed along "Jogasaki picnical course".
I surrendered.
Everybody, please enjoy your walk.
Basic Information
Name
Jogasakikaigan
Address
Futo, Ito City, Shizuoka
Closed
—
Open hours
—
Fees
—
Getting there
By train
・Tokyo (Limited Express Odoriko, approx. two hours and ten minutes) > Ito
・Tokyo (Shinkansen, approx. 50 minutes) > Atami (Ito Line, approx. 30 minutes) > Ito
・Nagoya (Shinkansen, approx. one hour and 50 minutes) > Atami (Ito Line, approx. 30 minutes) > Ito
15 minutes walk from Izukyu Jogasakikaigan Station
By car
・Tokyo (Tomei Expressway, approx. 40 minutes) > Atsugi IC > (Odawara Atsugi Bypass, approx. 70 minutes) > Atami (National Road No. 135, approx. one hour) > Jogasakikaigan
・Osaka (Meishin and Tomei Expressway, approx. four hours and 30 minutes) > Numazu IC > (Izu Skyline, approx. one hour) > Jogasakikaigan
Parking lot
toll (500 yen), around 100 toll parking lots
Contact
Ito Tourist Association TEL: 0557-37-6105
Website
Jogasakikaigan
※ Please make sure the info you see is the latest in advance.